Sermon for the Second Sunday after Epiphany – January 20, 2019 by Father Paul Alvarez Norton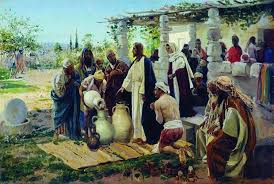 In the Name of the Father, and of the Son, and of the Holy Ghost. Amen.
Father began the sermon by reciting the Hail Mary.
Some weeks ago I went to a winery to buy some wine. After I paid, an employee asked me if I was a Catholic priest. Yes, I am a traditional Catholic priest, I said. Then he carefully, after complimenting me, told me how strongly he disagreed with the pope. I disagreed with the pope too, I said. He was evidently very surprised so I continued to explain my point. I told him that even though I believed that he is the pope, I know that I have to obey God rather than the pope; there is no other way than to disobey Pope Francis.
Then he evidently felt free to say other things so he changed the topic and asked me about Our Lady. He started to attack her, then I stopped him and said, If you don't want to see the Mother of Christ, I suggest you don't try to go to heaven because she will be there. Obviously the conversation ended there.
Today we hear about the first miracle of Christ while doing his missionary work. As we know, this miracle was at the suggestion of His Blessed Mother. At the moment of His birth, Christ was placed in the arms of His Mother and immediately after His death He also was deposited into the arms of His Mother. His entire life is intimately linked to His Blessed Mother. How can anyone who claims to be Christian doubt her special place in the history of salvation, or doubt her powerful intersession. This doubt cannot come from the inside of men because this Protestant dichotomy of a Holy Son and a Holy Mother is repugnant to human reason. This necessarily comes from Satan. He is the only one capable of inspiring such a pernicious idiocy in the hearts of men. He is the only one capable of such a degree of hate against Mary Most Holy.
The Mother of Jesus was there, says St. John. That is, she was a friend of the household, a near or distant relative, so she was distressed when she saw that the waiters hesitate and make signs and consultations about the wine. She warned her son and received a dry response which seems to be a rebuke. But she did not get discouraged. She called the servants which proved that she was a friend of the household and spoke to them in the same words that the Pharaoh used during the famine in Egypt at the time of Joseph. Do whatever He tells you.
In the gospel of today perhaps more than in any other we can see the power of her intersession before Our Lord. Christ ordered the servants to fill the six water pots with water to the top and He performed the miracle with simplicity. He revealed His Messiahship says St. John and his disciples believed in Him. The first miracle of Jesus Christ is therefore curious. It was a miracle of joy, a miracle made before His planned time because of the petition of His Mother and a miracle made at a wedding party. Even more, Christ arrived at the wedding after forty days of fasting but He did not impose the fasting on the bride and groom. He did not come to the party and begin to shout, 'Wretches, don't you know that you have to die? Don't you know that the judgment of God is terrible?' That is not Christ. That is Montanus, Savonarola or Calvin.
Christ was not less ascetical than all of them but more. And as a religious man he applied asceticism to Himself but not to others. There is nothing worse than those who are very ascetical with their neighbors and very little to themselves. Jesus Christ was the opposite. Possibly in this first miracle of Christ there is a response to the devil. The devil asked Him to make his first miracle by turning a stone into bread, a necessary thing. It must have been a terrible temptation because after forty days of fasting, hunger returns as unbearable torture. But Christ made the biggest miracle when He wanted; not simply to transform a stone into bread but a hundred and fifty-four gallons of water into wine. If there was not wine, Christ could not have made his first miracle, nor His permanent miracle of turning it into His blood of which this first miracle was an anticipation and symbol.
There must be good things in order to be able to know God, to serve God, and if necessary, to sacrifice then to God. The ascetic is not a man who believes that good things are bad things. The ascetic is a man who knows the good as good, and yet sacrifices it. Why? For another greater good. What good have Christ, He said, not in bread alone doth man live. So He shows us that the greater good is the Divine Word.
May God always keep us in the way of wisdom and obedience to His Divine Will, in humility, austerity and joy.
In the name of the Father, and of the Son, and of the Holy Ghost. Amen.