Words of Comfort , Words of Caring – Father Stephen, o.f.m.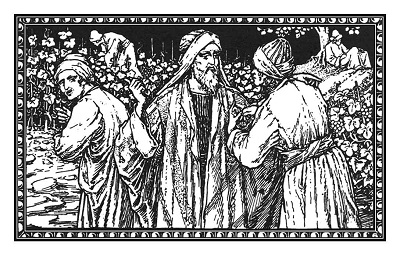 Praised be Jesus Christ!
Dear Faithful,
Two thoughts are risen in my conscience as we begin our Septuagesima with prior to the Lent: The first echoes Christ's Passion, His Ascent to the Cross, and
the second is His Gift of His Easter-Triumph of the Resurrection, giving Hope and Promise. These very different thoughts make the soul vibrant and sensitive to the reality of life now and even forever with God, for Whom we live now and in Eternity.
Our Savior Lord is Our Model and Teacher, also Our High priest and King. His Mission on earth and beyond reveals the two parts of our life,Eternal Joy and Peace, Triumph and Life without end, but preceded by the necessary cleansing by suffering and struggle and even death.
This comprises our the message of Salvation. In the first part, I must come to you with words of comfort, encouragement, for I learned by aging and hopefully maturing that care, and sensitivity must not be absent in pastoring souls. Healing and caring are the hallmarks of Our Lord Himself as His Mission revealed and nurtured the fearful Apostles, preparing them to take on His Mission to be continued as the Harvest is to be awaited at His Return.
Too saturated is our present world with evil and crime and constant violence and threat of violence. Too little domain seems left for comfort and promise of home. Yet, this reality is too present around us all. Also, a pastor must be aware and not be deaf and blind to our faithful.
Yet, again, God is there, God is here. God is Father and He cares. Yet, if He required even of His Only Beloved Son His Death, we must know and learn that such Path awaits us and our Triumph must needs to follow the pattern of Our Only Savior. This fact must of essence be present in the very words of comfort and encouragement.
The servant must follow his Master. They persecuted Him, they will persecute us, He died for us, we too can be expected no less. So much for the moment on our source of comfort and encouragement.
The second half of my message here begins.Kindly take a moment to pause as we turn to the second part of my message, and know that my prayers for you go before and follow
The call and challenge of Lent:
The purpose of Septuagesima, is to re-kindle our faith-life by Lent. I said, faith-life, because our life that is not Faith oriented, will without a doubt miss Heaven,
union with God, for whom we have been created.
What brings us to speak about faith, is Jesus' question to His Apostles: When the Son of men returns, will He find faith on earth. What Iearned while I served God and His faithful for 4 years in Garden Grove was the discovery, that Traditional Catholics can have a false assurance, that because when we protest that we are not Novus Ordo Catholics, we are sure of our Salvation. This can be a deadly self deception, for it suggests that we can relax.
Not so. This attitude is self-deceptive. Unless we daily fight for our salvation by constant  vigilance, we can slumber into carelessness, for St Peter warns us that the devil is lurking around each of us seeking whom he can devour. Faith, if it is alert, and vigilant keeps us watchful for the voice of conscience being open to the movement of the Holy Ghost.
Lenten time is a wake-up call, the many reminders to acts of self-denial, sacrifices, and regular penitential acts, prayers and weekly confession with careful self-examinations will surely help us to walk in the footsteps of Christ. This is to ready our soul for God to live in our heart, minding what He Wills, and not what we hear an see around in a depraved world.
Thank God, His obedient divine Son Jesus for the Feast of the Resurrection, that returns for us on Easter Sunday. Unless we remind ourselves in this God given season, and fail to awaken our conscience to Christ's caring love, His Passion, we would fail at the decisive Judgment Day.
With daily prayers for the gift of Grace calling you to enkindle your faith-life,
Fr. Stephen, o.f.m.