Sermon for Trinity Sunday – May 27, 2018 by Monsignor Patrick Perez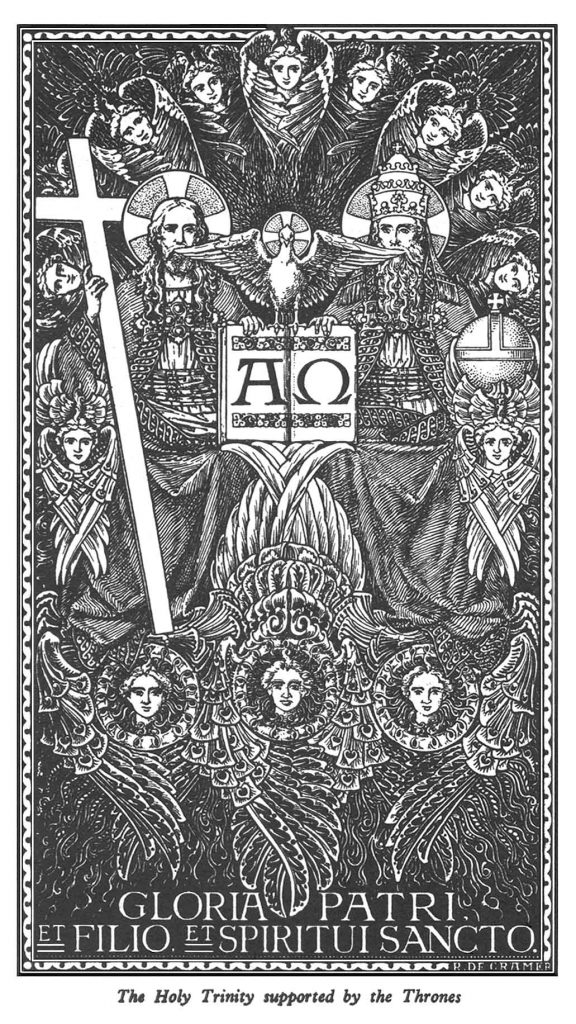 Father began the sermon by reciting the Hail Mary.
My dear faithful, it is a very sad week. For those of you who have not heard what happened in Ireland, they had a protection in their constitution which defended the unborn. In the old days they figured this was their safeguard against abortion ever coming into Ireland. Well, they had a referendum and decided by two-thirds majority to change their constitution to allow for the murdering of babies in that formerly Catholic country.
Since this news I've been so heartbroken and so furious at the same time. I know this doesn't amount to much of a sermon but I've been so preoccupied with this, I can hardly think of anything else. First of all, heartbroken because I lived in Ireland for five years and I saw in front of my eyes their darned clergy apologizing for the existence and the history of the Church. There's a common myth amongst the Irish now that the Catholic Church kept them in ignorance and kept them from advancing in the world for many centuries. And the priests were apologizing for keeping them ignorant and for keeping them from progressing into the modern world, when what they were doing was keeping them Catholic at the time.
I saw their clergy and their worthless bishops, the worthless clergy and worthless bishops destroying their Church and I am furious at them. I'm furious at the history of evil and worthless popes that we've had since Pius XII. These popes, these modernist so and sos have led the people of Ireland and of the world into the wilderness and there they have starved them to death. And that is what we've seen in front of our eyes. If I could have the pope here at this moment I would berate him for the evil, worthless, useless pope that he is, for destroying the Faith.
You know, this referendum happened: where was the pope? Where were the bishops? The pope plans for a visit -after- the referendum, to Ireland. He should have been there before. Had he been a pope like the popes of old, he would have said, I will place your country under interdict if you vote to change your constitution to allow for the killing of babies. That's what a real pope would do who had guts. These guys have no faith, they have no guts, and they have no ability to lead the Church. They don't believe in anything but their own modernist heresies and I'm sick to death. Why am I sick to death? You say, well, we have abortion in this country. Ireland was a Catholic(!) country fifty years ago; unquestionably. When I lived in Ireland there were so many pious and good and holy people who thankfully are dead now, thankfully, because they would have died of heartbreak seeing what has happened to their country.
 
The only age group, not surprisingly, who voted not to change the constitution to kill babies was the 65 and older group because they had some remnants of the Faith that were left to them when their priests and their bishops were Catholic. There's nothing left. Our Lady of La Salette refers to the annihilation of nations. Ireland is annihilated; Ireland is no more, Ireland has reverted to a land of paganism that, like the Canaanites of old, will soon be murdering their own babies and they are joyful about it! I saw on the internet some of the news reports showing the people dancing in the streets over this wonderful liberation, women with signs, "At last we can do what we want to with our bodies and they're not telling us anymore".
Well, there is reason to be heartbroken. I lived for five years there and I can tell you I saw the last light of the sun as it disappeared over the hills. There is nothing left there (Father brought to tears). In 1907, Monsignor Robert Hugh Benson wrote a novel called The Lord of the World. Fascinating book, everybody should read it. It's a future science fiction dystopia about the antichrist in the Church, and in it in 1907 even then Robert Hugh Benson could not have imagined that Ireland would abandon the faith. So for the whole world Ireland was this one hold-out of Catholicism in the entire globe and look at it now. Look at it now.
So my dear faithful I know by faith that I should accept this as the chastisement of the good God and I'm not angry at God. I'm angry at our worthless, despicable hierarchy and I tell you solemnly you had better pray for our place here and you'd better support us and beg God to spare our little island here because the rest of it is literally going to hell, literally going to hell.
I had a sermon prepared about the Holy Trinity but I've been so preoccupied and furious and heartbroken by this turn of events, I couldn't even do it, I couldn't think of anything else. But I did want to leave you with one thought because the Trinity is so offended by this. I don't know if it's my imagination but I have this premonition that God's justice will be swift and sure to Ireland. I don't have anything to go on; I kept on thinking of the three days of darkness and things that might happen but it would certainly be a witness to the world.
Back to the Holy Trinity, as I was preparing this sermon and different aspects of the Holy Trinity, a lot of which you've heard before, but one I thought was particularly fascinating is one spiritual writer said that God's revelation of His Trinity to us was perhaps a greater act of love for mankind than Calvary itself. This is a fascinating statement; because He didn't have to reveal it. This was a revelation of the intimate life of God, not necessary for our salvation. We didn't have to know about the intimate life of God. But this revelation of the Trinity was a greater act of love for us than Calvary itself, than God the Son Incarnate dying on the cross. To that end when you consider it in that context how can we not want to know the Trinity more? And how many of us really do know the Trinity to the extent that we can. If you're called to explain this to somebody how do you explain it? How many of you really know the Trinity as well as you can to explain it? Because what you usually get is somebody comes to you and says well, my name is Muhammad and I want you to tell me about your Trinity. And you say, Well, you see, they're three in one and one in three and one is three and three equals one and and – And that doesn't make any sense. That's bad mathematics. How do you explain that? Do you just slam the door and say, It's a mystery!!!  So you need to get into the details of how there are three persons, three distinct persons in one God and know what "person" means and what "nature" means. So the nature is God, the person is Father, Son and Holy Ghost.
Anyway, what I wanted to do is actually end with a beautiful prayer that I found to the Holy Trinity. You can go online and look up Prayer to the Holy Trinity. There are several, you have to dig through a few, but most of them are not all that great but I found this one particularly beautiful and I would like to leave you with this. By the way, today's feast —  the Church held out for years, Rome had been petitioned to have a feast of the Holy Trinity and their responses was (and I kind of understand it) that we honor the Holy Trinity in every single Mass, Glory be to the Father, and to the Son, and to the Holy Ghost. It wasn't until about 800 years ago that the popes finally caved in and gave us this feast.
Let us pray:
O God, Thou who art one in nature  and three in persons, Father, Son, and Holy Ghost, first cause and last end of all creatures, the infinite Good, incomprehensible and ineffable, my Creator, my Redeemer, and my Sanctifier, I believe in Thee, I hope in Thee, and I love Thee with all my heart. In the midst of Thine infinite happiness, Thou didst choose me, through no merits of mine, in preference to countless other creatures, who would doubtless have corresponded with Thy blessings better than I have done; Thou didst love me from all eternity; and when my hour in time had come, Thou didst draw me from nothingness into earthly existence and didst bestow upon me Thy grace, as a pledge of everlasting life.
From the depths of my misery, I adore Thee and I give Thee thanks. Thy holy Name was invoked over my cradle to be my profession of faith, my plan of action, and the only goal of my earthly pilgrimage; grant, O most Holy Trinity, that I may ever be inspired by this faith, and may carry out this plan with perseverance, so that when I have reached the end of my journey upon earth, I may be able to fix my gaze upon the blessed splendours of Thy glory.
Amen
In the Name of the Father, and of the Son, and of the Holy Ghost. Amen.