Sermon for the Third Sunday after Epiphany – January 27, 2019 by Father Paul Sretenovic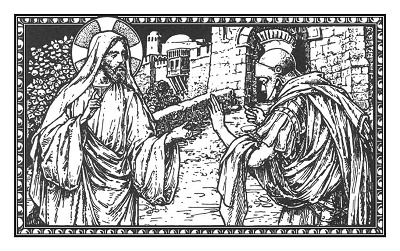 Father began the sermon by reciting the Hail Mary.
 
There is an example today in the gospel of two very humble men, men who we need to emulate and imitate, especially with regard to our approach to the sacraments of Confession and Holy Communion. The first man today, a Jew and a leper, who said, "Lord if Thou will, Thou canst make me clean". He approached Christ with humility. He wasn't approaching thoughtlessly about what he was asking or of whom he was asking.
 
How often is it when we go to confession, that maybe we don't really think what it is that we are asking of God. We know of course we want forgiveness of our sins. But perhaps we are not considering what a great gift that is and how undeserved. This man today considered that he hadn't asked for the leprosy, nor was it his fault he had leprosy, and that Christ could certainly tell him, No, I'm not going to heal you. But in fact his humility, his desire and his confidence in Christ led him to ask appropriately. So before we receive the sacrament of Confession in which the leprosy of sin is removed from our soul, it is for us to spend some time before confession praying and preparing ourselves to ask Our Lord to will our conversion. Not just our healing in the confessional, but our full conversion of heart. That has to do with the first man.
 
Neither did the second man today, who was a Gentile, take Christ for granted. We have this ongoing theme in the Christmas season, Jew and Gentile coming to Christ and being saved, right? So first we have Christmas with the shepherds and then with the Epiphany, the Gentiles. We see this Gentile today who makes an even greater act of faith and Christ says soon after He had healed the man, I have not found faith like this anywhere in Israel. And we have the centurion's faith which is so great, the act of faith itself is so perfect, that it is used at every Mass. Domine Non Sum Dignus, Domine Non Sum Dignus – When we think back it was this centurion in the presence of Christ who was humbling himself in such a way, he was recognizing Him as his Lord and God. And every time before we receive Holy Communion when we hear Domine Non Sum Dignus, we must recognize Christ in the Blessed Sacrament as our Lord and our God. It should be something we remember in connection to this man of the gospel today and how, because his act of faith was so great, not only was his servant healed but his whole family was converted to the faith; his whole family became believers. So was the case also with Cornelius in the Acts of the Apostles.
 
Just as we think about the first man and his connection with confession, we prepare ourselves and recognize that Christ does not have to forgive us but He does will it if we approach Him correctly. And thereafter for Holy Communion, to recognize our own unworthiness. Then the fact is that the Sacrament of Confession well received leads to a profound sense of unworthiness at the altar rail. So if we make good confessions, then when we come to the altar we will truly be able to say, "Lord, I am not worthy". So we might well feel more unworthy receiving Holy Communion then we did when we were in sin going to Confession, because once you're cleansed you see more clearly. The plank having been removed from your eyes, you see more clearly that Christ is God, that He is right there and is giving Himself to us. Not only did He forgive our sins, but more, that was not enough for Him, it didn't exhaust His love, He had to go one step further and give Himself as food for us. This is something that should and can cause a major conversion of life, even receiving Him so once.
 
Again, as I said earlier, the Jew and the Gentile were both healed and then there was a foreshadowing of the Jew's apostasy as we see towards the end of the gospel. "I have not found so great a faith in Israel and I say to you that many shall come from the east and the west, and shall sit down with Abraham, Isaac and Jacob in the kingdom of heaven". Abraham, Isaac and Jacob are the Jewish patriarchs. "But many who are not of that fold will be in heaven with them, and others, those of the kingdom who should be there, the house of Israel, will be cast out into exterior darkness". Of course, we know in the end that many of them will be converted, there will be mass conversion of Jews in the time of the anti-Christ, but in the meantime "let His blood be upon us and our children" was the curse put on the Jews by their leaders and the people at the time who said it as one at the time of the crucifixion.
 
In this type of foreshadowing in today's gospel, there was also (prevalent in last Sunday's gospel) the foreshadowing at the marriage of Cana, where the Sacrament of Holy Eucharist is seen in the changing of the water into wine, as later Christ would change wine into His Body and Blood. At this point there is also indicated the Sacrament of Holy Matrimony and Holy Orders. We know this wedding feast was for Simon the Apostle (who we celebrate in May as Sts. Simon and Jude). Then Christ came to his wedding, blessed it and then said, Now come follow me – I'm happy for your marriage but now you have something else that I'm requiring of you. What a sacrifice that would have been for his wife. But it shows we have the Sacrament of Holy Matrimony that is being prefigured here because Christ was going to elevate it to a sacrament, and then Holy Orders where we see Christ was calling one away from marriage to serve Him in a more special way, in a more particular way to be His minister at the altar. We see the superiority of the priesthood and religious life over married life but of course without good marriages we don't have good religious, so it works both ways. Also there was Mary's universal mediation, where she petitioned the first miracle of Christ. We don't see much of Our Lady in the Scriptures, especially after the early stages of Christ's life, but for this time and of course at the crucifixion. So without Our Lady's intersession there will be much embarrassment at the last judgement as there would have been at the marriage feast, so we need her motherly intersession and her unique mediation, her very special role in our salvation.
 
This is also foreshadowed here in the gospel. Concerning marriage as it was intended, today's saint, St. John Chrysostom, along with some of the Fathers of the Church, postulated that had the fall of man never occurred, Adam and Eve would have lived as brother and sister and the matter of conceiving children would have been different. Now St. John Chrysostom is a great saint but it doesn't necessarily mean he got everything right because this itself goes contrary to the teaching of God Himself in the scriptures where, a man shall leave his father and mother and cleave to his wife. This was as it was meant to be in the beginning, it was not a result of the fall. It's not just a spiritual but a physical reality. So sometimes the Fathers of the Church became very mystical, very spiritual in their way of thinking and sometimes elevated as they were so much above the flesh that they may have made some applications that were not entirely correct. In this case they seem to have gone maybe too far without necessity as the effects of the fall did not need to be used as a spring board to read back into the will of God something entirely unnecessary.
 
St. Thomas Aquinas argues against the fathers on this point, that man, created male and female, were not created as they were in anticipation of the fall, as this would be unreasonable. It is not how God operates. God created us the way that He wanted us to be and if we corrupted that in some way then that would be punished. Like the manner of giving birth is punished by pain, so the manner of conceiving is punished by concupiscence. It doesn't mean it would have been any different. Some have maybe tried to argue back that because of what we see now in terms of the effects of the fall, that, can we not postulate God would have done it differently in the beginning. The point is, it is completely unnecessary to do so. Really it kind of wastes time and has caused many an issue among a number of friends (or former friends) in the past year or so (a big debate on line).
 
So when Christ last week foreshadowed the elevation of Holy Matrimony and He made it a sacrament, of course He did not take away the effects of the fall. As a result of that, while we may not say like Chrysostom, that it would have been different had this not happened, we do realize that all are called to chastity, not continence but chastity, so even married couples have to be careful that they stay within the confines of right reason and the gospel. So it is important there are many married couples who, in the end, could be lost because of sins against the 6th and 9th commandments. There is a good intention in a way in bringing up such issues even if ultimately it may be misguided because there is a purpose to it in the sense that we have to be careful. Just because you're married and you have certain rights doesn't mean you can do whatever you want either. We have to be very careful that we are always within the confines of what God allows and examine our conscience very much on this, because the sins against the 6th and 9th commandments can very much increase, not just the wound of concupiscence, but the wound of ignorance as well, which keeps us from being able to meditate and to be able to prepare ourselves to make a good confession.  All of which redounds to the beginning, right?
 
It is through devotion to the Holy Eucharist and to Mary, the Mediatrix of all graces that we both recognize and respond to our vocation, whatever it may be, the state of life that we choose – vocation, the calling that God gives to us. Without this foundation we can be pulled maybe too far one direction or the other so we need to have this love of Our Lord in the Blessed Sacrament which was foreshadowed last week, and this desire in all things to be perfect as our Heavenly Father is perfect. In doing so in general and in particular, God will show us exactly what He wants of us and He will help us to fulfill our state in life while in the process making sure we keep within the confines of the state of our vocation being faithful to the end. The purpose of all these things is to get us to heaven. Let us think about these things as we prepare to receive Our Lord in the Blessed Sacrament to be able to say as the centurion did, "Lord, I am not worthy. Only say the word and my soul shall be healed", and to say like St. Thomas, "My Lord and my God". If we are not quite ready to receive Holy Communion, if we still need to examine our conscience more, we can be like the leper today who said, "Lord, if you will it, may I be healed". Just be very serious about recognizing that this is God we are talking about. This is not common man; this is not common place or anything like that. We are talking about the living God here on the altar who we will be receiving if we are going to receive today. So consider the gravity of the moment recognizing that if we do receive, God expects us to grow not just in holiness but toward Christian perfection. He has given us the means today to do so to whatever vocation that we have.
 
In the Name of the Father, and of the Son, and of the Holy Ghost. Amen.