Sermon for the Second Sunday in Lent – February 25, 2018 by Father Paul Sretenovic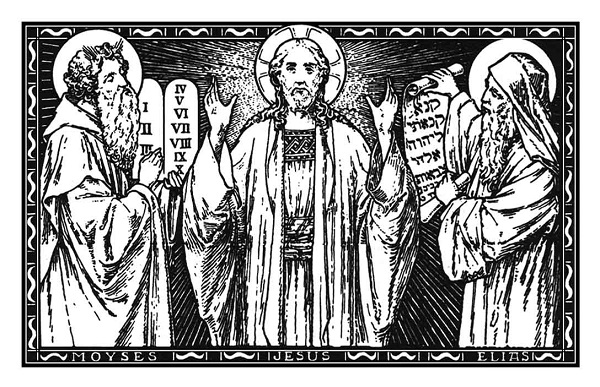 Father Paul Sretenovic, 02/25/18
Second Sunday of Lent
Father began the sermon by reciting a Hail Mary.
This, the Second Sunday of Lent, provides a startling contrast in the context of the Gospels, with that of last week. Last week described the threefold temptation of Our Lord as He finished His forty day fast in the desert.  Our Lord was at the weakest point He would be outside of the Passion itself.  This week we see him glorified in a way second only to the Resurrection.  This contrast is meant to be a lesson to us, vividly describing the reward of fidelity by a glimpse at the Beatific Vision.  If we are faithful to the disciplines of Lent, our soul will become more and more radiant, more and more transfigured. Our Lord's soul even when He was not transfigured, was radiant but He hid it from the eyes of the Apostles. If we are in the state of grace, and especially if we are being faithful to our Lenten observations, our soul is radiant even though we do not see it. It's hidden from our eyes but by our faith we recognize it. If we are faithful, if we are weaned from the world and spending time with Our Lord, extra time in prayer and penance, in His time He will reveal to us the progress we are making and we will get a bit of a glimpse of our soul and that we are in fact on our way to heaven.
The Lenten Fast should be forty days, not eight, of fasting, in terms of what exactly we can do. I gave a sermon a couple of weeks ago where I mentioned about the Honors class vs. the AP class, right? We should at least be in the Honor's course here; we should at least do the forty days. It's not just Ash Wednesday, Good Friday and all the Fridays of Lent where we fast and abstain. At the very least we should observe forty days in which although we may not abstain from flesh meat at every meal – that would be top notch. But even if you wanted to do that you should check with your spiritual director because your circumstances may require that you refrain out of holy obedience. The biggest thing is to become obedient, to not do our own will and sometimes we do more harm doing our own will, so we have to be careful about it. We should be subject to our superiors in such desires which may be very good. But the devil sometimes can use that as well.
At the very least we all can, unless there is some kind of health issue, fast for the forty days which means if we have meat it's at the one main meal, the other two meals are smaller and they don't add up to the one meal, like two snacks basically. This is a time of warfare, not a time of peace.
I am reminded of a great Croatian basketball player who played in the NBA, Dražen Petrović. I think he was Catholic; he was Crotian (I think he was Catholic vs. the Serbians who tend to be Orthodox). In this program where they detailed more of the distinctions or the division between those who were once brothers, who once played together, now were on opposite sides like Vlade Divac and all the Serbians and all the fallout that happened as a result of the war in Croatia and Serbia back in 1990/1991, the war for independence basically in Croatia. He said in an interview when asked why he could not still get along; why could he not still be brothers as they once were and play together basically. Petrović said very chillingly the way he said it – There is a war and I am Croatian. He said it very, very clearly, very distinctly to the point. And whatever one believes about that war there is a glimpse there of the supernatural that he said his country was more important than any friendship that he had. Well for us our faith must be more important than any other ties we may have. In other words, in this time we are called to do battle against our disordered inclinations against the things that wreak havoc on our soul. So whereas Christmas was more of a time of peace, this is the time for war, this is the time where we do battle, we show that we are Christian; there is a war and we are Christian. The eternal war is raging and we have to make a choice between one or the other. If we don't make a choice we are choosing the devil. There is no such thing as not making a choice. We have to make a choice. Part of a choice is to commit at the very least to some kind of real penance that we are doing for the sake of recognizing that we are not in heaven yet, we are not Protestants. We are Catholic and we are called by our nature because of original sin. We cannot escape from this warfare. It is there whether we would have it or not.
Lent is also meant to help remove the stains and shadows from our otherwise radiant soul and that takes time. They are the toughest stains to remove because they adhere to the soul. Even if we have made a good confession if it is not a perfect contrition/confession, if there is only attrition at this point, then there are going to be some attachments that remain. If there is attachment to mortal sin then we know we are not actually forgiven then. We have to be detached from mortal sin but normally even after making a good confession there is some remnant of sin remaining, the effects of sin which is part of the reason why we are given the penance to do, to make restitution for those sins so that the stain may be removed. So in doing the penance we recognize at least that we have sinned and that we are trying to break with whatever it is that is the occasion for us. But that can be very difficult to do, especially if we are guilty of mortal sins in our lives. And it either will be purified here or in the next life.
One of the things which can help us acquire a greater resolution to overcome these things, to wash away these stains from the soul is to be in the presence of the Blessed Sacrament and to remain in His presence. It's like Moses in the Old Testament. He went into where the Shekinah or the presence of God was, where the Ark of the Covenant was and when he came out his face was radiant. We have in a way which is even greater than that, the Blessed Sacrament, the fruit of Our Lord's sacrifice for us and it had not yet happened in the Old Testament.
We want to be careful, whatever we do, in the blink of an eye Lent will be over and we don't want to be as Dom Gueranger who wrote the Liturgical Year said, to be as weighed down on Easter Sunday by our sins as we were on Ash Wednesday. So one and a half weeks of Lent is already over; we need to really take a very clear account right now what kind of progress we are making, what we're doing, what we're not doing and we are probably too attached to the world still. We might still be losing a lot of time focused on the things of the world. While we don't judge the souls of the people of the world, in a way it's like spending more time with the damned than the blessed, spending more time with those who are on the way to perdition rather than spending time with  the saints and with Our Lord and Our Lady. Who we spend time with shows really who we love. Now we may not love the people of the world but it shows that if we love ourselves maybe if we are spending too much time with the perverted culture rather than disciplining ourselves and making sure that we are not just saying our prayers but praying. There is a difference and doing the spiritual reading, making the efforts to be weaned from the world because God, as I may have said in the beginning of the sermon, gives the signs of the saints from those who are weaned from the world. If we are not, then we are basically trying to love both God and the world and then at the end of Lent we will really be no better. We will not have fulfilled the purpose; we will not have really waged warfare which is what this time is for.
So in conclusion, much of Lent then is about changing our dwelling place from the city of man to the City of God as St. Augustine would call it. And we look at last week as a contrast where Christ was dwelling and what the devil was offering and we make a choice of whom we are going to stand with, as I mentioned earlier, while we still have the time here.
Become more committed whatever it is you are actually doing and remember that by continuing to do the things we've committed to, we build virtue that way. Virtues are good habits so that whatever we gain in Lent is meant to remain in the soul after Lent and we grow in the rest of the year. This time is very important for us because maybe our virtues have become very weak, maybe we are not really again doing what we are supposed to do right now in forming those virtues and making little choices for the sake of God and for growing in sanctity. Our Lent could be a very good one, even if we are not fasting on bread and water all forty days.
Let us be encouraged to stay to fight the battle of the Lord and to receive Holy Communion with a renewed resolution to conquer ourselves and to conquer the world for Christ.
In the Name of the Father, and of the Son, and of the Holy Ghost.