Sermon for the Second Sunday after Epiphany – January 14, 2018 by Father Sretenovic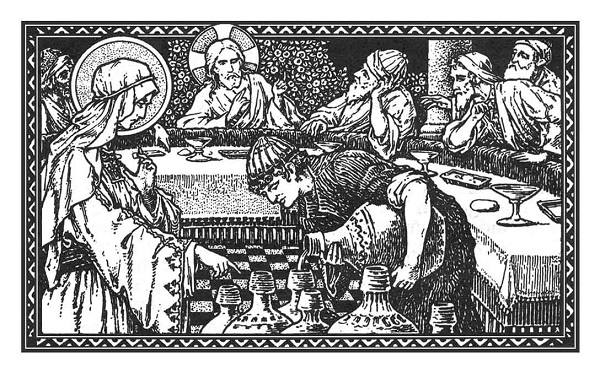 Father began the sermon by reciting the Hail Mary.
An interesting to note today, right after the Octave of the Epiphany, that the Solemnity of Marriage opens again after having been closed since the first Sunday of Advent. In this we see the mind of the Church at work giving a gospel on marriage right as the Solemnity of Marriage opens. Although marriages can be performed when solemnities are closed, there is no Nuptial Blessing nor a Solemn Mass. Solemnity is one of those things that is a "nice" coincidence.
Cornelius a'Lapide, a great scripture scholar from centuries passed, has a commentary on the gospels where he says there are some early authorities who believed the gospel bridegroom was St. John, the beloved disciple. This is probably based upon a misreading of St. Augustine who wrote, "The Lord called John from the wave-tossing tempest of marriage". a'Lapide says that most probably Augustine meant that Jesus prevented St. John from marrying rather than calling him to follow him after the marriage had taken place. This would be in agreement with the teaching of St. Ignatius of Antioch, one of the Church Fathers. St. Jerome, St. Augustine and others wrote that St. John otherwise willed from the beginning to be celibate. So he may have been on the brink of marriage given the expectations of his family and society at the time, but he did desire it. Possibly Our Lord said, "You will do no such thing; come follow Me". We don't see that in scripture because not everything is recorded, but this is the opinion of some of the Fathers on the subject.
On the other hand, according to the theologian Baronius, the Simon the Canaanite was the bridegroom called from his marriage today to follow Our Lord as an apostle. a'Lapide says that when Simon saw the miracle of water changed into wine, that was enough for him – I will follow you wherever you go, Lord. And then Christ called him. It seems in a way unfair to the wife but she saw the same miracle and she knew Our Lord wanted something. He wants me to make a sacrifice here. Remember that most of the apostles, barring St. John, were married and they left their wives to follow Our Lord. I don't think any of them had children at that point.
Just to note a couple of things in this regard. With this miracle Transubstantiation is prefigured. Christ changing water into wine shows He has power to change bread and wine, each one, into His Body and Blood. Transubstantiation then is a part of both the first miracle and the last miracle of Christ while alive; of course, not including His Resurrection. By coming to the wedding Christ honored marriage but by calling Simon to Himself He declared that celibacy and the Apostolate are more excellent than Marriage. And just as a side note, the old wine represents the natural-law marriage and then the new wine that is made by Our Lord represents the fact that He was going to elevate marriage to a sacrament. So there is plenty going on today in this gospel which describes the first miracle of Our Lord.
Now back to the point concerning the apostolate and celibacy being above marriage; my impression is there are too many who seek marriage as if it were the thing most desirable in life. I do not in any way denigrate marriage because without holy marriages we have no holy religious. Again, not to take away from the holy state of matrimony in any way. But it seems as though there are too many who don't give enough thought to the possibility of being a religious because their thoughts are only of a future marriage. On the other hand at least a few of the happiest marriages I know of consist of couples in which at least one party, sometimes both, sought God first in the religious life. In fact, St. Thérèse's parents, the Martins, are an example of this. I actually know personally several couples where one or both were either in a convent or seminary and God called them to marriage to each other. So this does happen and putting God first they received what He really wanted from them because God does not call everybody to religious life. With religious life God is showing a certain preferential love for that soul but with that preferential love comes a responsibility to recognize that call and then to respond to it, to embrace it, because God is calling that soul not for just that soul's sake. Of course God loves that soul, He loves all perfectly but not all equally but at the same time in calling that soul He is calling not for itself but for those whom God wants to save through that soul. So if God is calls a soul it is because He wants the salvation of many more that will not otherwise be saved without that soul's prayers, without that soul's sacrifices, without that soul's holiness and purity and the special graces that God wants to give to that soul, again, not just to adorn that soul for its own sake but for the sake of the Church.
So we have a duty to recognize a vocation, our parents have a duty to foster those vocations in the children and to prevent them from being too worldly, from having the love of the world. It doesn't mean we don't make use of the world but we must reject the spirit of the world, and if we reject the spirit of the world then we are able to recognize our vocation more readily because virtue is more easily sought with those who are not attached to anything of this world. So the home must be a place where God has lived and breathed very naturally. It's not where we are just learning some truths of the Faith. We are learning to love the Faith because the Faith is lovable, because God is lovable. So I think that is something especially parents really need to work on in terms of being very vigilant in keeping the love of the world away from their hearts. Because once that gets in it is very difficult to get it out, very difficult.
In terms of God's Will from the beginning for religious life, of course Adam and Eve were not religious; they were married, right? A question about this that came up I will mention in a moment. Religious life even though it did not specifically exist in the beginning, was the Will of God to exist at some point. Our Lady of course is married but also the Blessed Virgin at the same time so she exemplifies both vocations. Christ was married to the Church; the Church is His Bride, He is the Bridegroom but it is a mystical marriage, not a physical one. So God willed there to be a religious life, it was in His mind but did not actually become effective until a millennium later.
A question arose regarding when marriage actually began, before or after the fall? Church Fathers have asked this question and a number of them got it wrong according to St. Thomas Aquinas. The question arises because today's gospel is, in fact, about marriage. One opinion holds, Adam and Eve did not have children until after the fall, so they weren't married until after the fall. More believe this than you might think. Of course there are those here who could attest that children don't always come right away, right? My brother and his wife had no children of their own until seven years after they were married. They adopted two children in five or six years and then suddenly, they had two of their own since.
The span of time from the creation of Adam and Even until the time in which they would be tempted by the devil is unknown. In the devil's malice he would have tempted them immediately. But it is possible God restrained him for a time. So we don't know, scripture does not reveal this, tradition does not reveal this. We don't know how long it was from their creation until their fall.
Or perhaps God was waiting for this diabolic test to determine whether children would be born in pain or without pain depending upon the response of Adam and Eve. It is possible also that God while giving the general call from the beginning to bear fruit and multiply, would have otherwise given them a more specific command later. That is something that St. Thomas Aquinas postulates in the Summa. So there are different possibilities here. But one thing is for sure, the Scripture is very clear that God says right after the creation of Eve from Adam, "bear fruit and multiply". And Christ makes reference to a man leaving his home and cleaving to his wife. He was not saying what existed after original sin, only how it was from the beginning as God intended it.
Natural law marriage existed from the start, and later Christ, as we saw earlier, would elevate it to the level of a sacrament as prefigured in the gospel. In conclusion both vocations, marriage and the religious life, are good and desirable, both in a way interdependent and both willed by God from the beginning. Aspire after the greater and no matter which vocation you are given, it will bear fruit.
In the Name of the Father, and of the Son, and of the Holy Ghost. Amen.