Sermon for the Fourth Sunday after Epiphany – February 3, 2019 by Father Paul A. Norton
n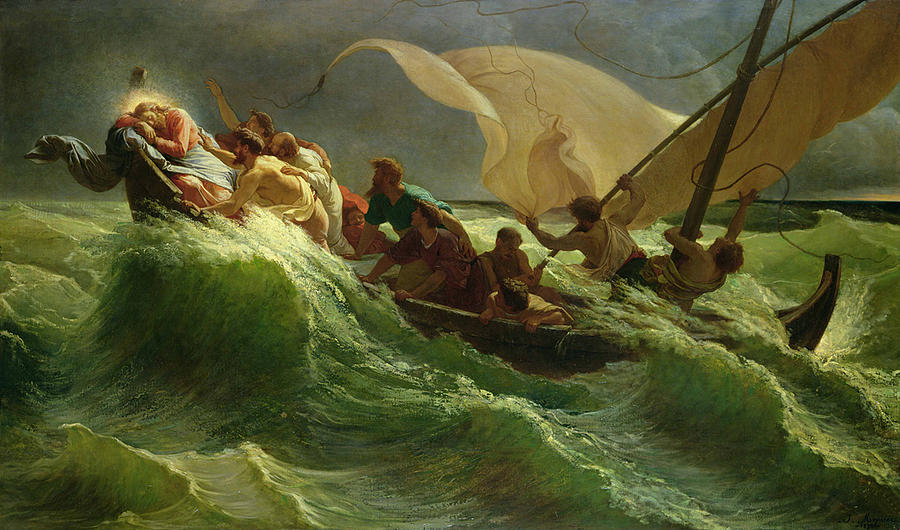 In the Name of the Father, and of the Son, and of the Holy Ghost. Amen.
Father began the sermon by reciting the Hail Mary.
Today's gospel is that of St. Matthew which describes Jesus with his disciples and the storm on the sea of Galilee. The great Archbishop Marcel LeFebvre said in his book, They Have Uncrowned Him, "the Church is in Gethsemane but she will not die". She looks like a city occupied by the enemy but the resistance to the liberal sect is being organized and fortified. Yes, Gethsemane, what a hard word to hear. In Hebrew it means olive press and it was exactly there that Christ was pressed as an olive. That in itself is a message for every one of us. If you want to follow Christ you have to remember that He had a desert, a Judas and a Gethsemane. But Christ is admirable. Today we hear in this gospel that He sleeps in the daytime in a storm and at night He leaves the bed and goes out to pray until dawn.
He is not awakened by the blowing of the wind nor the roaring of the waves, but by the cries of His disciples. Many men of robust nature could sleep when they wanted to like the first Napoleon for example. It is known that he was able to sleep when it suited Him and he had to be awakened on the morning of the Battle of Austerlitz. Well, the fact is that Christ was sleeping and the disciples awoke Him saying something different each of them according to the three evangelists. But in fact, they must have shouted  
A man who shouts when his boat is sinking on the sea in a storm is a coward? For us it would seem that he was not, but for Christ this man is a coward. Christ does not like cowards. The Church, the boat of St. Peter, has already had many storms and today is one of the worst, waves invade about, and it really seems as though we perish as Archbishop LeFebvre indicates in the phrase that I quoted in the beginning. It also seems true that Christ has preserved His useful habit of sleeping in such a case and that He also still felt nauseous of course. He said it clearly, "But because thou art lukewarm, neither cold nor hot, I will begin to vomit thee out of My mouth". If cowardice is a sin, yes, and in some cases very great. The apostles had a very practical way of preaching which was to make a list of great sins, recite them and then say, "None of these will enter into the kingdom of heaven". Thus St. Paul says, "Do not err, neither fornicators, nor idolaters, nor adulterers", and so he goes on for a while – "shall possess the kingdom of God".
St. John in the Apocalypse, which is a prophecy about the end times, adds to the list of sins two others which St. Paul does not mention: liars and cowards, which indicates that in the last times there will be a great impulse towards liars and cowards. Cowardice in a Christian is a serious sin because it is a sign of poor faith in Christ who has given the proof that He is someone to whom the sea and the winds obey. So fear is not a useful thing, not even lawful. Julius Caesar on a similar occasion did not allow his companions to be frightened.  "What do you fear, you walk with Caesar and his good star", he told them. Much more peaceful we should be if we are with Christ, creator of the stars.
Yes, cowardice is a sin but especially in a priest or a bishop. A few weeks ago we had a clear example of cowardice with that bishop in New York who refused to excommunicate a man who publicly disobeyed the teaching of the Church by allowing people to kill the most defenseless human beings, the ones that are in the womb of their mothers. But know dear brothers and sisters, this man is not our problem. I personally don't care about him. Our problem is the coward bishop who doesn't have the pants to do what he has to do. Completely formed babies, my dear brothers and sisters, I don't have words to describe the evilness of a clown like this bishop who refused to guide his flock showing that no one who calls himself Catholic and wants to receive Communion can promote such an anti-Christian atrocity. May God send him straight to the kingdom of Moloch*.
There is a famous phrase attributed to St. St. Athanasius, "The floor of hell is paved with the skulls of bishops". Similar ones are also attributed to St. John Chrysostom and St. John Eudes. May God send all the coward bishops, dogs of Satan straight to the kingdom of their master, murderers from the beginning and give to us the strength to stand for the truth and speak for those who have no voice until one day the world returns to its' right mind and calls this generation a homicidal generation.
In the Name of the Father, and of the Son, and of the Holy Ghost. Amen.
*A Canaanite god associated with child sacrifice.