Sermon for the First Sunday of Lent – March 10, 2019 by Father Paul Sretenovic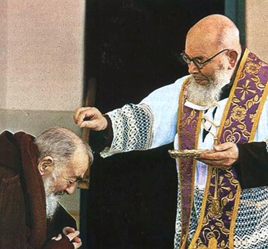 Father began the sermon by reciting the Hail Mary
We are beginning Lent in earnest now. In this vitally important season for us, we need to learn the lesson of the Israelites in the Old Testament (you may have heard me say this before) who should have taken maybe forty days, even with women, children and the elderly, to cross the desert from Egypt into the land flowing with milk and honey. They were being rescued from Egypt, rescued from the world, rescued from persecution. They did not harken unto the voice of their God and as a result they had to wander in the desert for forty years. No coincidence that the desert was called the Desert of Sin.
For us, we need to take the penances of Lent seriously and enter into them with a spirit of obedience, the spirit of not doing our own will but the will of God. Maybe run this by your superior – if you are a wife, talk to your husband, if you're a husband, talk to one of the priests to make sure, or if you are children, talk to your mother or father. The penances you undertake are not just for you, but you are doing them in the spirit of obedience, with one other person at least, knowing about it and you can be held accountable that way. So this is something to consider, to do penances while wanting more and more to do the will of God. The penances are not an end in and of themselves. They are a means to an end. They are the means to purification of soul so that we may do the will of God more perfectly and be shown the true state of our soul, knowing the things we need to be better.
Penances are not just to punish ourselves for our past sins but to know our sins better, and more clearly, to know them with a deeper conviction that we are in need of penance. So if we do not make this Lent a good Lent, we wind up wandering around like the Israelites of old and then Lent comes and goes, Easter comes and goes, Christmas comes and goes and we are still wandering and will be wandering for many years. So, it is very important that we enter into this Lenten season with the proper spirit. St. Paul today helps us in this regard: In all things he is joyful and labors in fasting and watching, imprisonment, in the many sufferings he undergoes and everything else he talks about. All the saints had the spirit of joy no matter what they were going through and if we cannot imitate their specific deeds and heroism, we can at least strive to acquire their spirit.
Outside of our corporal penances, this can be manifested in two specific ways: bearing wrongs patiently and doing good – especially to those most difficult to please or get along with. Look at the lives of the saints; all of them universally had the qualities of bearing wrongs patiently and going out of their way to be good to those who did not like them at all. There are those who, whether you like them or not, are just very difficult; God gives different graces to different people and some he allows to be more difficult. St. Bernadette of Lourdes, was so patient with a nun who did many different penances. But she was doing them very proudly, perhaps for her own sake, even if she wanted to do the will of God. Then St. Bernadette taught her how to do the will of God. And, that Bernadette suffered so many things when the nun thought she wasn't suffering at all, despising her for it. The while, Bernadette was being eaten away by tuberculosis in the process. You know the story. When the nun found this out she herself probably became a great saint realizing that she had become so proud by all the penances she was doing. But it was St. Bernadette who had the true spirit of obedience, being visited by Our Lady who knew what it was to love God. So, penances are not an end, they are a means to an end. That could happen to us if we are struggling in our penance and trying to do good, then we find ourselves being tempted very much to judge others – which almost universally happens if we are fasting. We look at others and ask, are they fasting? Are they doing enough? I know what I'm doing, right? And without even thinking about it, being so subtle, that's what we think. We consider our own place in what we are doing and God finds a way to correct us for that. Oftentimes we will see that the one we were judging was suffering after all and we didn't know. It's a lesson for us, to not be proud; not allow the penances of Lent to puff you up. It is meant to lead us to know exactly what we are, which should produce the opposite of pride – humility. To realize that we are ashes and dust, we came from dust and we are going back to the dust. That's why we receive ashes on Ash Wednesday.
So Lent is more about combating and rising above the inclinations of nature, retaliating when wronged or shying away from loving and serving Our Lord. Of course, doing this with any rate of success is nearly impossible unless accompanied by the corporal penances associated with this penitential season. If we are not fasting, just try to be good to someone who's being difficult. It's practically impossible. If we are feeding the flesh then the pride of the flesh rises up against the spirit and makes us become more combative; whereas if we overcome ourselves from the beginning and start doing the necessary penances, little by little we get to a point where we make a choice. I am either going forward or I am going to rebel and when we rebel against it then we no longer fast. So again, be penitential and accept the crosses that others give to us as ultimately from God. Corporal fasting is a preparation for spiritual fasting; the corporal penances are preparation to undergo the true battle which is, who is our God? Is it Non Serviam of the devil or is it Mikha'el: Who is like God? So we have two choices and the fasting is going to help us make the right choice. Otherwise we are already serving the devil. To whom then, do I belong? That is the question we should be asking ourselves during this Lent.
The third temptation, as the devil was saying to Christ, Worship me, is the one we can focus on the most. When we are not fasting, we do not possess a horror of sin; when tempted we tend to make a god of whatever it is rather than rebuking him with all of our being. So when we are tempted, especially our predominant fault, we have a choice there. It's the devil presenting himself – make me your God, when in effect, if we reject it with all of our being we are saying, God is our God and not the devil.
When we choose ourselves, we are actually choosing the devil as well. There is a strong connection there. When we are choosing God we are choosing all the saints and their example as well.
Adore God at this Mass, in the Sacred Host as an aid to the spirit of obedience, the spirit of self-abnegation. The spirit of adoration will strengthen our will to fight the good cause. If we are adoring Christ in the Mass, make the Mass the center of our day. Even if we can't come, uniting ourselves with the priest at a certain point during the day wherever in the world the Holy Mass is being offered at that time. This spirit of adoration helps us to put God first. Recognize when we are tempted; remember to adore God, not ourselves and not the devil. Now is the acceptable time to fight, now is the day of salvation, as St. Paul says in the Epistle.
Today let us put aside the things of a child as we read last week, putting on the armor of Christ and serving Him alone, as Christ Himself says of God His Father: Serve Him alone. That is what Lent is about, getting to a point where we can move through this time so that by embracing and loving the cross, we may be brought to tears on Good Friday when we kiss the cross, because we will know what it means.
In the Name of the Father, and of the Son, and of the Holy Ghost. Amen.