Sermon for the First Sunday of Advent – December 3, 2017 by Father Sretenovic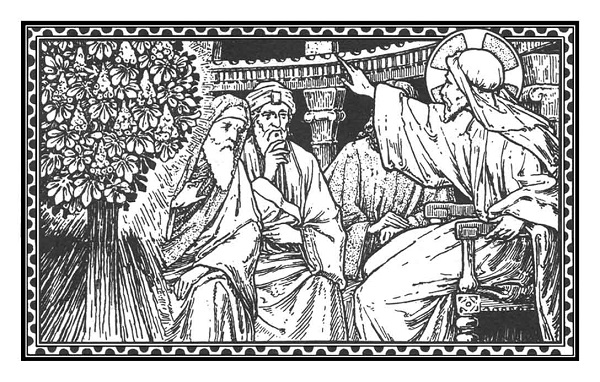 Father began the sermon by reciting the Hail Mary.
On this First Sunday of Advent you will notice that we did not pray the Gloria. That is not just because it is a penitential season, but because we are anticipating the great feast of Christmas when the angels broke out into the first Gloria in excelsis Deo. We do not say it on Sundays now specifically as a reminder of that, helping us to pray and to remember what is coming.
In the readings today, less in the Epistle but certainly in the Introit and Offertory, "…none of them that wait on Thee shall be confounded". The heart of the spirit of the season is in changing our disposition from a worldly orientation to one which lives for the next. An orientation in which each day our anticipation of death and of being face to face with God is something that is growing; an anticipation by which we wake up with joy knowing that this could be the day we get to see the Lord. Through our corrupt nature we tend to live for the things of earth almost imperceptibly. We are attached to creatures, to our pleasures, our pastimes, the things that we want to do, or love to do, that we can't go without. But the heart of the season is the Church's new year beginning today. While we talk about New Year's resolutions come January 1st, we should be doing that now in terms of getting to a point where each day is lived for the Lord's coming. Advent is about preparing for Our Lord's first coming, His birth in time.
It is equally a preparation for death. In fact in Advent we are meant to reflect upon the four last things: death, judgment, hell and heaven. So it is a blessed period of time we are now in when we are called to learn to yearn for God, to learn to yearn. It has a negative aspect and a positive aspect. The negative aspect is detachment from creatures but the detachment will never last without a growing attachment to God. Thus this time is meant for silence, for separating ourselves as much as possible from creatures, even those to whom we are otherwise bound. Granted, we have our daily duties, the people we are responsible for and are called to serve and each has his vocation. But in the midst of that we must find time to separate ourselves and to live in the presence of God, preferably before the Blessed Sacrament; but when that is not possible, then in the chamber of our hearts where we live and converse with God. It is a constant struggle. We know that.
Each day we wake and have so many thoughts of what we want to do or are looking forward to or not looking forward to — these can be an equal distraction. But as the scripture says today, "Now is the time for us to rise from sleep", so each day during Advent we should be rising from sleep and immediately giving praise and glory to God and if nothing else, giving ourselves a couple of moments just to allow God to be God and allowing us to be His creatures, recognizing our dependence upon Him. It is a foundation of the spiritual life that God is God and we are not. Even the great Catherine of Siena – I've said this before – she had that revelation from God. She wanted to know, "Who are you, Lord? I want to know more". And God said, "I am He Who Is and you are she who is not". So it is a reminder to us; what God said to St. Catherine is equally and in a sense more applicable to us because we are less than St. Catherine.
We need to remind ourselves that every single moment, God is keeping us in existence by His love, His power. If He withdrew His power we would not just die, we would be annihilated, going out of existence.
Most incredible is the fact that God chose to keep many in existence even in the midst of mortal sin. That is the love of God for us in spite of ourselves and that should lead us to a more profound respect and desire to repair His honor for the times in which either we or others have offended that honor. This interestingly enough connects to the gospel where we see the end of time and the Son of man returning. Can we imagine how terrifying that would be? – it is said even the saints already in heaven will tremble at the coming of the Son of Man. But if we are living in expectation of the Coming of Our Lord, whether His Second Coming or His coming to us at our judgment, then we long for God's justice, long for that coming. No matter how terrifying, we long for His honor to be restored, His anger to go forth upon a sinful world, even though in the meantime, like St. Catherine of Siena, we are trying to cover the pit of hell so that nobody falls into it. She specifically said that. So for us in the meantime, perhaps it could happen that the Second Coming be in the midst of all the current upheaval. With Our Lady of Fatima's 100th anniversary, who knows when She will come to fruition? And, lest I joke, the threat of the North Korean who seems to have Hitler's barber; what is he thinking with an ICBM they say could reach New York City? So while we have this background threat as a reminder that the consecration has not occurred, we also have the threat of judgment always hanging over us with a chance we won't live to the fullness of our years.
Even though we don't live in constant fear still we see these things happening as a reminder that we are here for a short time and that's it. On the other hand we see before us the Second Coming in the image today as a reminder that this is an absolute reality. We may try to forget about it; we may live with pride of life as if it doesn't exist even though we still go to Mass; we may still say our prayers, but we may not be trying to walk side by side with God without really following in His footsteps. We might be living as St. Francis de Sales said — he called it living in a perpetual state of venial sin, not complete separation with God but living attached to our own will.
All these things ought to serve as a reminder that the time is coming sooner than we think so now is the time for us to wake from sleep. Now is the time for us because our salvation is closer at hand. We are closer to a time in which we will see God face to face. And that should bring us joy. There should be great expectation with that and the way we move toward that is the way we assist at the Holy Sacrifice of the Mass. How do we participate in the Mass? The Mass is Christmas. Christ's Mass, heaven on earth right here right now. So the expectation of heaven should be lived right in this moment in this Mass. We need to work on the way in which we participate at Mass, where our thoughts are directed. Are we fixed in God, transfixed as Our Lady was transfixed?
If we begin to love the Mass more, to desire and long to receive Holy Communion, learning to yearn for Holy Communion, then we will yearn for heaven as well. So this is heaven on earth literally. It may not look like it, the veil is there, but the reality is the same. Just like during Christ's life on earth, He didn't look like He was God – Yes, He is! At the Transfiguration all of a sudden they saw, This Is God!
In conclusion, let us live this Advent as if it were our last one knowing full well on this 100th anniversary of Fatima that God is not going to allow this to go on much longer, and let that be a source of fear on one hand but joy and expectation on the other. Our salvation is so close, closer than when we first believed, much closer than when we first believed for those of us who are a bit older – a great joy but also there is fear and love at the same time. Love God in the Mass that we may love Him for all eternity without the veil, especially as we prepare for the Christmas season knowing although we may not be at the first Christmas physically, yet we are there at the Mass.
In the Name of the Father, and of the Son, and of the Holy Ghost. Amen.