Sermon for the Fifth Sunday after Easter – May 6, 2018 by Fr. Paul Alvarez Norton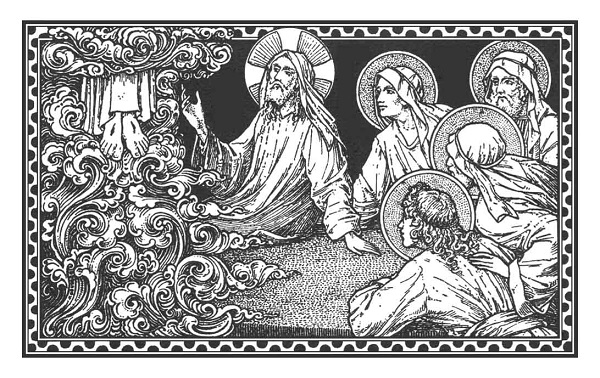 In the Name of the Father, and of the Son, and of the Holy Ghost. Amen
Father began the sermon by reciting a Hail Mary.
"Blessed be God, who hath not turned away my prayer, nor His mercy from me" says Psalm 65.
In today's gospel Christ teaches His apostles and us about the power of prayer. Prayer is perhaps one of the most important aspects of religion. In fact, many say that the word religion comes from the Latin religare which means to tie, to bind. This would seem to explain the reason for religion itself which is to give to God the glory He deserves and connect every aspect of human life to Him. Behold the importance of constant prayer. St. Alphonsus Ligouri used to say, "He who prays will be saved. He who does not pray will be condemned." This refers to an infallible power of the prayer. It transforms us into better people consciously or unconsciously because it guides our actions to give greater glory to God.
Prayer certainly saves but it saves one's very faith. Prayer should help our faith to increase. The exact opposite of this is Phariseeism which incidentally was the recipient of the most severe words of Our Lord who called the Pharisees hypocrites and children of hell in Matthew Chapter 23, 13-15. When St. Alphonsus says "He who prays will be saved; he who does not pray will be condemned", he presupposes that the person is praying with true faith, but how can someone who was born in a false religion reach true faith if he cannot pray effectively. Well, it is in the same way that many pagans did by conversion. The grace of conversion initially requires good will and this good will is a basic and natural response to good itself. Certainly we can pray for the conversion of others, but the prayer of those others cannot have a spiritual positive effect if it is not based on true faith because as the apostle said, "Without faith it is impossible to please God".
This categorical teaching has been sustained uninterruptedly for centuries by the Church. The communicatio in sacris which we hear so much about today which translates into English as worship in common with pagans, heretics and schismatics, has been banned outright by the Church and punished with canonical penalties. Further, the Church speaking about those who have not been baptized, says that they are dead. The sacrament of Baptism (and of Penance)  is called a Sacrament of the Dead. It is easy then to understand why prayer without true faith cannot produce effects.
Having said this about those who pray, we can now move on to consider the other side of the picture, what happens to those who don't pray? Tertullian wrote, "I tremble to think that a man can spend a single day without praying". Just a little while ago we were talking about how the one who prays will be saved. Does this phrase by Tertullian mean that he who does not pray will not be saved? Possibly yes. Although Tertullian, because of his excessive rigor, fell into heresy, into the Montanist heresy. Sacred scripture commands us to love God above all things. Now how is it possible to love God without seeking to be united to Him through prayer? Impossible.
With this in mind we can consider the scope of Christ's promise. Christ promised that the Father will give us what we ask but with the second sentence, "Hitherto you have not asked anything in My name". Certainly the apostles have asked for many things but they were foolish things. For example, they asked Him to make fire rain from heaven into the cities of Carpharnum and Bethsaida. They forgot that the first thing they should have done is to fight for the conversion of the people. That is why the Divine Master warned them that they had to ask in His name in union with Him and His intention which, as we know, is that all men be saved and come to know the truth.
Following this reasoning superficially it could seem that Our Lord's promise is meaningless or rather it seems equivalent to something like this: You have to ask God for things. If He wants He will give them to you. If He doesn't want to give them to you, He won't. And to know that, it is not necessary to have a brilliant mind. But that is not the idea behind the importance of prayer and the need to pray. Effective prayer was carefully delineated by Christ during His preaching. It has two necessary conditions:
One, It has to be constant, another, it has to be convenient. "Which of you if your son asks for bread will give him a stone or if he asks for a fish will give him a scorpion", Christ asked. What happens is that sometimes we ask for a stone or a scorpion and God does not give them to us. Or sometimes he gives them to us to correct us. As the saying goes, God sometimes punishes the fool by granting his wish.
Is then prayer useless? Never. If it is fervent and constant, Aut quam dabit tibi quid quaeris aut quid Qui scit melius, says St. Augustine – that is, Either he will give you what you ask or what He knows is better. Christ insisted a lot with words and actions that prayer should be constant. Sacred Scripture also insists on this when it says, Sine intermissio orate, Pray without intermission. Even more, Our Lord also illustrates the importance of persistent prayer with the parable of the insistent friend who goes at midnight to the house of a sleeping friend to borrow three loaves of bread. The man awakes and rebukes him with ten curses. Then the friend continues to ask at the door until the rich friend finally gets up and gives the loaves to his insistent friend. This persistence we see in the lives of the saints; this heroic persistence is what we call holiness. But if God knows what we need then He knows what is good for us. And if God loves us then what need is there to ask? This could almost appear to be a grievance against the Fatherhood of God for your Father knoweth that you have need of all those things, Christ also said. This rather silly objection is often heard and even some philosophers have written it. (Not great philosophers, by the way.)
That objection was answered a long time ago in a brief and elegant way by St. Augustine. The Doctor of Grace said, "God does not need you to tell him what you need but it profits you to do it". In other words, we need to pray. God grants us or does not grant what we implore. This imploring does us good and is pleasing to God. What good does it do for us to do this? There are spiritual benefits of prayer even in the case when we do not receive what we requested. That something better which God may choose to give us when we pray of which St. Augustine speaks are the following spiritual benefits:
1. Prayer puts us in contact with God; that is, an act of faith
2. Prayer reaffirms our trust in God; that is an act of hope
3. Prayer professes that God is good; that is an act of charity
4. Prayer helps us to think distinctly about the object we want; that is an act of prudence, since prudence depends on the action of consideration and prayer makes us consider
5. Prayer calms us which also belongs to the virtue of prudence
So summarizing, Christ's promise at the Last Supper is not something magical. But that promise, "Amen, amen, I say to you, if you ask the Father anything in my name He will give it to you" supposes that our prayer must be true prayer; that is, that it be in accordance with the true faith and that it be prudent and constant. The wise have praised prayer saying that it is very profitable. And what praise is comparable to that which the Church herself makes with her many orders dedicated to prayer. Since the Church's early existence there have been contemplative orders. The Church has not only approved them but has promoted them to encourage souls to seek the only necessary One, God: He who is and on Whom we all depend.
May the Divine Master never need to remind us of those words He spoke in Bethany: "Martha, Martha, thou art careful and are troubled about many things, but only one thing is necessary. That thing is to pray and listen to the only necessary One". May we never lose our focus on our Divine Master by worshiping worldly things instead of worshiping Him. May we always offer our prayer as though it were our first prayer, our last prayer, our only prayer.  Amen.
In the Name of the Father, and of the Son, and of the Holy Ghost. Amen.a