Sermon for the Feast of Our Lord Jesus Christ the King – October 29, 2017 by Monsignor Perez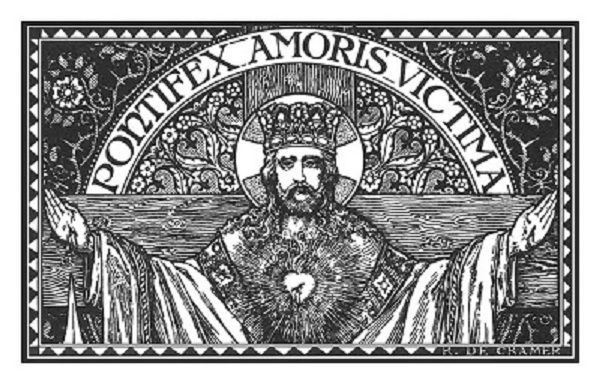 Monsignor Patrick Perez
October 29, 2017
Feast of Christ the King
Monsignor began the sermon by reciting the Hail Mary. Just a short sermon this morning because at the end of it we will have the Consecration of the World to Christ the King, the Sacred Heart of Jesus.
Today is the feast of Christ the King and what I would like to leave you with is not only a thought or a sentiment but a way of thinking that must be our way of thinking if we are to attain salvation. Imagine that we are in a country with an absolute monarch, a king, just like the old fashioned Catholic kings of old. When we have Christ as our King we are more than living in that country; we are privileged to serve at the very heart of His Court. So as in the old days, someone who served at the court of the king realized that they belonged entirely to the king first of all. They saw firsthand and deeply understood that they lived and died and did their business at the behest of the king; and he being an earthly king, whereas ours is a heavenly King. There are three areas where, as in days of yore, they would realize that because they owned nothing, not even their own lives, that in order to be a good servant of the king they had to give him three things. The first is they had to give him their minds. I don't mean that they weren't able to make decisions of any kind for themselves. What I mean is that their first thoughts had to be of what the king desired and what was his will and how could they best serve him. So the first was their minds. You know when you are in the court of the king you are looking to his every gesture, does he need something, does he want something, and if he wants something you'd better be there to give it to him or you are not a very good servant at the court. If he is looking for his glasses or a pen (Monsignor laughing — you know, my two biggest problems) or whatever it is he wants, you had better be there to answer the call and to give him what it is.
Well, in the case of Christ the King we have to have what Our Lord desires of us in our minds from the time we get up until the time we go to bed. It should be the primary thing in our vision. What can I give you, Lord? What do you expect of me? So the first is mind.
Second is the heart – in the reign of say King Louis of France, what his servants saw in him was not only an absolute monarch but a good king. And because he was a good king they loved him, they loved him as a person. Out of this love they would do almost anything for him but they gave him their hearts because of his goodness to everyone. Now we have better than a good king in Christ the King. We have a King who is Love, who is Mercy. We have to love that, we have to contemplate His goodness and His mercy and gentleness as King, for my yoke is easy and my burden is light. He doesn't impose onerous taxes on us or anything like that. He is a good and merciful King and so we have to grow in love for Him. We have to love Our Lord and out of this love will spring the many things that we do for anybody that we love very much which is pretty much anything and He would only ask us things that are good for our souls and good for other people's souls.
Finally we have to give Him our wills. So we have our minds, our first thoughts of Him; our hearts, we have to love Him. And finally we give him our wills. You know when the king says to one of his people go and take this to the Earl of Sandwich and get one of those bread things that he just invented and bring it back to me, the courtier didn't say, Well, maybe I shouldn't do that, and those bread things that the Earl of Sandwich just invented have too many carbs for the king and so I'm not going to bring one back to him and this kind of thing. The king didn't leave you; he knows from above what he desires and what is good and so when the king told you to do it you simply did it. When we give Him our wills we give up second guessing His will. You know the temptation that when things are going wrong or you've had some catastrophe that you know better than the God who allowed that. Boy, God, you really made a mistake when you did thus and such is our human reaction to that. And we have to give up all such reactions; we have to give Him our wills. If He allowed it, if He caused it directly, in any case it happened to us by His will whatever it is whether it is fortune or misfortune, whether it is health or it is disease and we accept that with our wills, we give our wills to Him.
So my dear faithful, I'm going to leave you two things; I'd like to read you the preface from the Mass today of Christ the King and then we'll do the Consecration of the Human Race to the Sacred Heart of Jesus that was ordered by Pope Pius XI long ago.
As I like to tell you, the liturgy always sets the tone and also sets the tone for sometimes our spiritual thoughts and our spiritual reading. We have these different Prefaces just before the Sanctus and just before the Canon and there is one for Christ the King …
It is truly meet and just, right and profitable, for us, all times, and in all places, to give thanks to Thee, O Lord, the holy One, the Father almighty, the everlasting God: Who didst anoint with the oil of gladness Thine Only-begotten Son, our Lord Jesus Christ, eternal Priest and King of the universe: that, offering Himself as a stainless peace-offering on the altar of the Cross, He might fulfill the pledges of man's redemption; and, having all creatures subject to His power, might deliver to Thy sublime majesty an eternal and universal kingdom, a kingdom of truth and life; a kingdom of holiness and grace, a kingdom of justice, love and peace. And therefore with the Angels and Archangels, with the Thrones and Dominations, and with all the array of the heavenly host, we sing a hymn to Thy glory, and unceasingly repeat: Sanctus Sanctus Sanctus.
So if you are able to you can kneel and I will read the Consecration of the Human Race for you. Just join your hearts and minds to the words to the words of the Consecration which is not just a consecration of us but it is the consecration ordered by the Pope whereby as faithful servants of Christ the King offer Him the entire human race.
Act of Consecration of the Human Race to the Sacred Heart of Jesus
Most Sweet Jesus, Redeemer of the human race, look down upon us humbly prostrate before Thine altar. We are Thine, and Thine we wish to be; but to be more surely united to Thee, behold each one of us freely consecrates himself today to Thy Most Sacred Heart.
Many indeed have never known Thee; many too, despising Thy precepts, have rejected Thee. Have mercy on them all, most merciful Jesus, and draw them to Thy Sacred Heart.
Be Thou King, O Lord, not only of the faithful who have never forsaken Thee, but also of the prodigal children who have abandoned Thee; grant that they may quickly return to their Father's house, lest they die of wretchedness and hunger.
Be Thou King of those who are deceived by the erroneous opinions, or whom discord keeps aloof, and call them back to the harbor of truth and unity of faith, so that soon there may be but one flock and one Shepherd.
Be Thou King of all those who are still involved in the darkness of idolatry or of Islamism; refuse not to draw them all into the light and kingdom of God. Turn Thine eyes of mercy toward the children of that race, once Thy chosen people.
In the Name of the Father, and of the Son, and of the Holy Ghost. Amen.