Sermon for the Feast of our Lord Jesus Christ the King – October 28, 2018 by Father Paul Sretenovic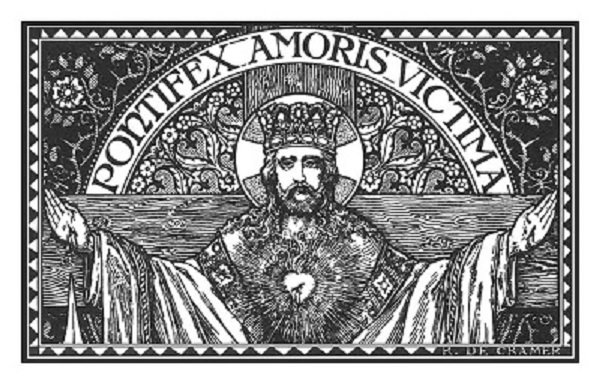 Father Paul Sretenovic
October 28, 2018
Feast of Christ the King
Father began the sermon by reciting the Hail Mary.
Today is the Feast of Christ the King, instituted by Pope Pius XI back in the 1920s. More about this soon, but first I want to make a couple of preliminary points. Considering your duties to the souls in purgatory, how you make out All Souls envelopes and have Masses said for them and remembering them in your Rosaries. But if we stop there, the head may be in it but the heart maybe not, so we want to engage the heart, by having compassion on the poor souls. We do that by thinking about their sufferings. The best book on this is Father Schouppe's Purgatory Explained which is kind of scary actually. Read that and you might get discouraged; how in the world will I make it if these souls are suffering for this, this and this?
That's the devil trying to discourage us and we ought not think like that, but the pains are extremely intense. Imagine for instance if you were undergoing open heart surgery and you weren't put to sleep, no anesthesia. In the pain itself you would faint. But imagine if you couldn't faint! It is said about purgatory that the sufferings are worse than the sufferings of all martyrs combined. This is because of the justice of God. Now is the time for mercy but when we go before God even if we are shown mercy, His justice still enacts punishment. If we have not done enough penance for the temporal punishment due to sins forgiven, then there is more suffering we undergo for that, more than we can imagine.
So souls in purgatory suffer more than with open heart surgery, or what have you; yet they are also perfectly at peace. Imagine seeing somebody suffering this without uttering a word, without crying out, just being at peace and just letting it happen knowing it is the Will of God and being completely resigned, knowing they will go to heaven. The joy that comes from that knowledge mitigates the intense suffering and even though they have no body it's as if they do. That's what they are feeling.
We need to remember our loved ones because they may be at this very moment suffering excruciating pain. Our prayers can and do help them; God is moved by prayers, by the prayers of the faithful on earth, the Church Militant, to help the Church Suffering. That's what He wants. There was a story of a woman in France, in the 19th Century, who was going to offer a Mass for the dead with all the money she had to live on. She only had the equivalent of twenty dollars perhaps, and she was going to look for work that day, having just lost her job. So in order to implore God's help, she went to the priest and gave him her money saying, Would you please offer the Mass today for whoever needs it most. After the Mass, the woman went to seek employment and on her way she met a man on the road who, I know that you are looking for employment, go to such and such a place, there the mistress has just fired her worker and you can go there and you will get employment. So she asked, How did you know that, but he just kept going. On her way to the house she saw somebody passing by in a huff. That was the woman who was fired. She continued to the house, knocked on the door and the mistress of the house opened the door, May I help you? The lady said, I'm looking for work and I was told to come here. The mistress said, Well who told you that? Then the woman looked inside and saw a picture of the man she had just seen on the road and she said to the mistress, That's the man who told me to come here. The mistress of the house said he died two years before. A true story. So the woman praying for the suffering souls received so much in this life; giving everything she had to live on and she received so much more both in temporally and then also spiritually of course. That's something for us to remember for although we may not have such a visitation in this life, (God does not grant it to everyone) but at the same time he grants it to some. Either way, we must realize that we are helping those souls who really need it, who will reward us. Just as God is not outdone in generosity, so the suffering souls they also make sure to do good, and have good obtained for those who do good for them.
On a related note regarding First Fridays and First Saturdays. I recently heard some specific requirement for First Saturday that some may not be aware of. Please recall if you are making the five First Saturdays
to do so with the intention of reparation to the Immaculate Heart. The four requirements are Confession, Communion, five decades of the Rosary, and fifteen minutes meditation on either fifteen decades or just one decade as Sister Lucy revealed. She said also, what Our Lord revealed was that with each and every one of these items, you must have the intention of reparation. You don't have to verbalize, you don't have to tell the priest I'm making this confession for that purpose, but you have to formulate the intention at least mentally. It has to be for reparation to the Immaculate Heart and even more specifically you should say to yourself it's for the five blasphemies. The reason why there are the five First Saturdays is because of the five blasphemies as Our Lord revealed to Sister Lucy, then a Dorothean Nun, being: (1) the blasphemies against her Immaculate Conception, (2) the blasphemies against her virginity, (3) the blasphemies against her divine maternity – refusing at the same time to recognize her as the Mother of men, (4) the blasphemies of those who publicly seek to sow in the hearts of children, indifference or scorn, even hatred of our Immaculate Mother, and (5) the offenses of those who outrage Her directly in Her Holy Images.
Our Lady, seeing how many souls were going to hell for these offenses against her, rather than ignoring their hellish plight, implores her Son that there be these five First Saturdays specifically to make reparation for these outrages. At that time there were already practices throughout the world of either fifteen First Saturdays, indulgence, prayers to Our Lady of the Rosary, or twelve First Saturdays or in some places eight First Saturdays. Thus the priest asked Sister Lucy, why five? Why not fifteen, twelve or eight, why few? So Sister Lucy asked Our Lord when next He appeared to her, and (outside of saying what I just said about the five blasphemies) the other thing Our Lord said was, because so many begin the other devotions of the fifteen weeks or the twelve or the eight, but they don't finish. Or if they finish they don't do it with the proper intention of making reparation to the Immaculate Heart. They do it to obtain the indulgence. Now obtaining the indulgence is not a bad intention but it's not what Our Lord wants. Our Lord wants that to be secondary so that's why He says it is necessary that you formulate the intention in each of these acts that you do for reparation to the Immaculate Heart. If you fail to do that, you do not fulfill the obligation for the five First Saturdays.
If you haven't done this specifically to this point, it still counts for something; just do it from this point forward and Our Lord will judge that later. The other things to know are: three of the four parts are necessary on that First Saturday, being, (1) the Communion of Reparation, (2) the Rosary, and (3) the fifteen minutes meditation. The confession can be made within eight days as you know. Our Lord said it could even be extended beyond that if you can't make it at a specific point through no fault of your own. He revealed that to Sister Lucy. The other thing regards Communion. In Northridge, not having a First Saturday Mass, the Sunday after the First Saturday, if the priest grants it, Our Lord said, it is allowed. That's the exception; here it wouldn't be an exception because you are close enough. You can get to Mass, we have the Mass so it doesn't count if you go on the Sunday. You have to go on the Saturday.
If you haven't made the First Saturdays before, do it now and do it for the rest of your life. In fact, Sister Lucy said don't just do it once. She herself looked forward to every single First Saturday, every one wherever she was, she kept doing it for the poor sinners. Also for us, now more than ever it is necessary to formulate the intention of reparation and in addition to that to give up something, to make a small sacrifice fostering the spirit of reparation so that we may do it with a more pure intention, not simply to gain again the indulgence. Our Lord said in fact, "The souls who make the five First Saturdays with fervor and to make reparation to the Heart of their Heavenly Mother, please Me more than those who make fifteen, but lukewarm and indifferent." We know our lukewarmness; we know the effects of original sin. Think about it this way, if everybody did it once, you would think that at least one soul would be helped by that. Our Lord is good to His Word; He's not going to say, well okay it's good you did it but I'm not going to actually make good on it.  We ARE helping; at least we have to think at least one soul would escape hell by that. Or maybe if we do it a couple of times –
There is so much to gain and part of it is learning how to have compassion on sinners as we do the poor souls; we have to have compassion on poor sinners. We may be one of those poor sinners, right? But at the very least it is for those who otherwise have no hope of getting to heaven. Our Good Lord in His Infinite Mercy asks to make reparation to the Immaculate Heart of Mary and to implore pardon and mercy in favor of souls who blaspheme against Her because the Divine Mercy does not pardon these souls without reparation. We must make reparation and do it for them, not primarily for our own gain.
Returning to the Feast of Christ the King. The elections are coming up very soon and we need to be militant against the demonic liberalism of the left – those who are completely irrational with rage, this crazy rage. We definitely ought to be offended by that; we ought to do whatever we can against that, but we have to do so recognizing there is a bigger issue at stake here ultimately, and that is in the union of Church and State. Christ must reign as King in our nation through the laws, not just against divorce – not just against sodomy – not just against things, but specifically recognizing the gospel as the supreme law of the land and not the Constitution, right? How many politicians even conservatives have to pay homage to the Constitution ahead of the gospel? JFK, was elected because he did that. Kavanaugh had to pay homage to the law of abortion as being constitutional; otherwise he wouldn't be where he is. Even staunch conservatives in the situation as it is today, have to act and speak like liberals once in a while. Otherwise they don't get to do what they're doing. It's like the end justifying the means in a way.
As Catholics we have to realize that Christ reigning as King in our nation is not just eschatological. The Novus Ordo observes this feast just before Advent signifying Christ the King rules at the end of time. Pope Pius XI wrote Quas Primas in 1925, December 11, arguing against this idea that religion is the private affair of man and not the public affair of government. Of course, he could have helped his cause by just consecrating Russia. But not doing that, he still wrote a very good Encyclical which was ignored by the bishops throughout the world. Before that Leo XIII wrote to Cardinal Gibbons, the leading prelate in the United States who was very much an Americanist, very strong in favor of Disunion of Church and State; the way it was in America from the beginning is the way it should be, he said. Pope Leo XIII had told him no, you're wrong for that. Of course, Cardinal Gibbons and the other bishops ignored him. Archbishop LeFebvre spoke to a cardinal in Rome in the 1980s and he was preaching Christ the King, he said Christ must reign as King now, not just at the end of time. The cardinal disagreed with him saying that was impractical; it will never happen now. Archbishop LeFebvre said well, with you believing that of course! But we are required to work for the true good of our nation which means that whatever vote we take part in now we realize it is a very limited good because the greatest good is one that nobody seems to recognize, neither conservative nor liberal. It's not conservatism vs. liberalism; it's about conservativism and liberalism vs. the Catholic Church ultimately.
In our practical situation it doesn't always work out that way in terms of a voting booth. We know that, so we work within our situation but at the same time we realize a deficit even if all the conservative politicians were elected. It's as if we only had the Latin Mass throughout the world and we were under the umbrella of the paternity of St. Peter, God would not be pleased because it's more than the Mass;
it's the Catholic Faith that's important. Similarly, even if abortion was eliminated, and all the bad laws eliminated, not until Christ is recognized as King of the nation, will God be pleased. And that's not going to happen because the Constitution, unlike Vatican II, will not be burned I don't believe. But it can be legitimately altered and replaced with Catholic Doctrine. You don't have to have a monarchy to have a union of Church and state; you can have a republic just like Ecuador in the 19th Century. We want to remember this. Hopefully you recognize this already by faith, but we can't just recognize it objectively, we have to work for it. We have to preach it, we have to give it to our family members, our friends, and we have to remind politicians of this duty. Even if they won't listen, we still tell them, we plant the seed even if they think we're crazy. So what! God doesn't think we're crazy, he knows we're right.
While we do what we can to be good citizens, we have to be good Catholics first, and it's in preaching the gospel of Christ, not just the spiritual life, but the public life of the individual as well as the state (separation of sheep and goats at the end) as of now the United States might be a goat, Our Lady of Fatima will make our nation a sheep in God's time. But for now what we remember is what St. John Chrysostom said, "The darker the sky, the brighter the stars". So no matter how dark it gets, we must shine brighter and brighter for our nation and give them the truth in its entirety and not be afraid. Of course, if we're afraid to make the sign of the cross in public we're probably not going to say such things either. So let's work on making the sign of the cross in public, have grace before and after meals, and not be afraid to do that. And then maybe we can take it to the next step of telling people there's more than this. We get so tied up in all these issues, but there's a bigger issue that nobody thinks about. We have to think about it and it is up to us. That's why we are made for these times; we were born for these times. God knew what He was doing when he created us in the 50s, 60s 70s, whatever it was, or maybe even before that for some of you. We are made for these times. Let us give thanks to God for that and also let us do something about it.
In the Name of the Father, and of the Son, and of the Holy Ghost. Amen.