Sermon for the Nativity of St. John the Baptist – June 24, 2018 by Fr. Sretenovic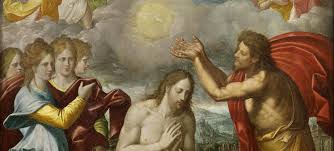 In the Name of the Father, and of the Son, and of the Holy Ghost. Amen.
Father began the sermon by reciting the Hail Mary.
Today is the Feast of the Nativity of St. John the Baptist. I would like to mention, first of all, there would be no Credo today except it is Sunday. St. John the Baptist, as great a saint as he was, was born and died before the gospel dispensation. That is why Our Lord says, "No man is greater born of woman than St. John the Baptist but the least in the Kingdom of Heaven is greater than he". Obviously, he is one of the greatest in the Kingdom of Heaven now, but St. John the Baptist was the bridge between the Old Testament and the New Testament, the New being infinitely superior to the Old. As he was technically still in the time of the Old Testament because Christ had not yet died. It was when Christ died that the Sanctuary bell tolled too and was a signal that the Old Testament, the Old Covenant was gone.
Today the Old Testament is still effective in the sense of the Ten Commandments and teachings and that which foretold Christ; the Old Testament is still the scripture, but the New Covenant and the Blood of Christ is infinitely more powerful and effective and worthy than the Old Covenant as sealed with the blood of goats and lambs, and all of what was to come.
On a more joyful note, Christmas music is allowed today. It's halfway to Christmas and you know that I'll remind you. I remember one time going back a year or two, it was January 25th and I was visiting with some parishioners and I said, "You know what this means. There's only eleven months 'til Christmas" and somebody said, "Oh brother". (Father laughing) Not just because it's halfway to Christmas but because the birth of St. John the Baptist is so intimately connected with Our Lord and His coming. Remember that Christ from the womb blessed St. John the Baptist just before he was born. So, St. John like Jeremiah in the Old Testament, was sanctified in the womb but even in a greater way because it was Christ Himself who did it. And we know that St. John from the time he was three years old, went out into the desert to pray, God providing for Him. It's a tradition that St. John – just like Our Lady, was presented in the temple at three years of age and she had left her parents to serve God completely as a virgin. So did St. John the Baptist in preparation for the coming of Our Lord. He already was born at that point but for his manifestation which would be twenty-seven years later of course.
It's a great feast today, one in which we want to consider in a special way the holiness of St. John, his prayerfulness, his mortification – he who was sanctified in the womb who had not sinned, did penance every day from before he was of the age of reason in order to prepare for his great mission. He was not distracted by any of the things of the world; he did not need to be weaned from the world as St. Alphonsus Ligouri says, "That God gives the science of the saints to those who are weaned from the world", well St. John didn't need to be weaned from the world because he never was attached to it. We just celebrated June 21, the feast of St. Aloysius Gonzaga who is known for his innocence, purity and his great sanctity, the same day as the 25th anniversary of Father Perez. (Incidentally, this is my father's birthday as well.) His Collect says we are praying for the gift to do penance because we who do not have the purity of St. Aloysius Gonzaga need to do penance. So also, we who do not have the purity and maybe the goodness of St. John the Baptist need to do great penance to reacquire what we lost by sin because when we sin, even after going to confession, there's a certain loss of innocence, a certain something that can never be gotten back, especially with sins against the sixth and ninth commandments. But while we can be forgiven and while we can otherwise move on, there is an effect of that sin that remains.
We need to reflect upon the example of St. John the Baptist today to see that we are much more in need of the way he was living. Of course, we don't have the same opportunity in the sense that we cannot go out into the desert. We have our families; we have our duties of state, we have that which God expects us to do. But we should long to steal as the saints did, every single moment to withdraw from the world to pray and make reparation for our sins and the sins of our fellow parishioners, our family, the world; in order to hasten the coming of Our Lady's Day, the Triumph of the Sorrowful and Immaculate Heart. That is the spirit that we need to acquire, this longing to pray. As St. Theresa of Ávila says, "Prayer is a lifting of the mind and the heart to God".
When we say our prayers, often out of weakness we don't really lift our mind and heart to God, we do not focus on what we are saying. We get distracted by the world, we get distracted by our other cares and worries and whatever it is. Like St. Martha versus St. Mary Magdalene, right? Mary had chosen the better part. Well, we often times need to learn how to pray. And if we learn how to pray and to pray well, it will dispel a lot of the half-truths that keep us from following God completely. We put up barriers or obstacles, whether it is to the Church's teaching on modesty maybe before the Council which is right there in black and white, right? But maybe don't even look at it because of the spirit of the world or maybe by not praying as fervently as we should, we are blinded as to just how important it is, especially in the Church. We talk about purity of St. John the Baptist or purity of St. Aloysius Gonzaga, purity is fostered by modesty. It is the protector of purity and the enhancer of it for others.
There are other things that people use as excuses to listen to modern music or a lot of the stuff that just corrupts the heart. The stuff that people listen to or watch – try praying as you're watching and see what happens. You are either going to keep watching and listening or you are going to start praying; it's one or the other! It's not that we can't have any fun or enjoy anything of the world, but the spirit of it is so often completely contrary to that of Christ and to our mission as Catholics to bring about the reign of Mary. We have a responsibility more than ever in these times to seek after this holiness of life no matter what our state of life is. As I said, we cannot be Our Lady; we cannot be St. John the Baptist. They were given a greater mission which we can't really fathom this side of heaven. But for us, we have a share in that mission. We are like St. John the Baptist preaching Christ by our example and by our words. We are paving the way for Christ to take possession of that soul and heart. That's like St. John for the coming of the Messiah and His mission.
Even though we are not at the level of St. John the Baptist, in a way we have a parallel to Him in our Mission and Our Lady as well by our goodness, our kindness, our patience, the virtues that we display or that we acquire in prayer and through the sacraments and through our daily lives. The way in which we live is one that should speak of Our Lady to people and the saints.
I've gone a little bit of a different way than I had originally intended in the sermon. I think the biggest thing today is to examine ourselves to see whether or not we have the spirit of prayer, whether our will is fixed on God or upon ourselves because it is one or the other. We just need to get to a point in which we are not playing games, in which we are not trying to live a double life advertently or inadvertently living this double life in which we are in part for God but still attached to ourselves. As we receive Holy Communion and if we are not really seeking after this union with Christ, then it's a lie. And then rather than Christ finding a place to lay His head, He will have to leave us and there is a judgment that comes upon us for that. As St. Paul says in Corinthians, "We bring judgment upon ourselves if we do not recognize and discern the Body and Blood of Our Lord" and we cannot discern the Body and Blood of Our Lord if we are still fixed in the world and not on God.
Let's just today, focus on prayer realizing that it's just a part of our identity, it's not just something we do, and if we do, all of a sudden the things that get in the way, the little half-truths that we deceive ourselves with so easily become dispelled. And we want to love God, we want to do exactly what He wants and then things that we didn't think of before suddenly become self-evident. So that's a part of the blessing of prayer, whereas if we don't pray, well then the punishment on that is blindness of heart and mind.
As St. Alphonsus says, "Those who pray will be saved; those who pray not will be damned", so the spirit of prayer the most important thing for us, the one thing necessary without which no matter how many prayers we say we are not really speaking to God. We're not really getting His ear in a manner of speaking. With that in mind let us keep silence in the soul and fixation on the cross and on what's happening on the altar now that we may receive the blessing of God and be fixated on Him, not just now but in eternity, and to have hope and encouragement that we can indeed be saints and overcome every obstacle on the path to salvation.
In the Name of the Father, and of the Son, and of the Holy Ghost. Amen.