Sermon for Sexagesima Sunday – February 4, 2018 by Fr. Paul Sretenovic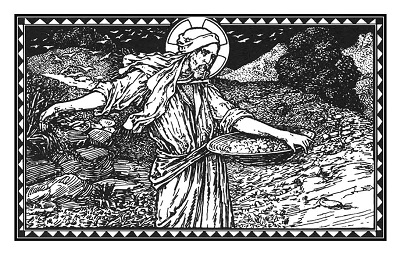 Father began the sermon by reciting the Hail Mary.
Omnem Fidem ita ut Montes Transferam
I want to briefly mention a couple saints: St. Blaise while on his way to prison and martyrdom, was approached by a distraught mother whose child was choking on a fish bone. As he prayed the child was cured. He was known for his holiness, sanctity and ability to cure many ailments even before he was a bishop. That's why we say in the prayer for the blessing of throats, Et quolibet alio malo – and from all other illnesses may you be preserved. God heard and answered his many prayers and we should be encouraged by that. Some of us might be given that gift or could be given that gift but… we of little faith. St. Thérèse at her clothing ceremony for the Carmelites, asked for snow on that day and although it had been very warm, that day it then got cold and started snowing. It's amazing why we don't see how much we could be granted even with such faith. We should pray for the gift of faith as we go into Lent that whatever we legitimately ask for we will be given.
Also, St. Valentine whose feast is on Ash Wednesday this year. Somebody once asked me whether Ash Wednesday takes precedence over St. Valentine's Day and I said, Of course it does!  I'll never forget that. (Father laughing) St. Valentine shortly before his martyrdom, cured a blind child by his prayers. He sent a card with the child's parents which read "From your Valentine". The cured child perceived colors first then he saw the card. The parent read it to him as he hadn't the ability to read. That's how Be My Valentine really began, not as some romantic thing but actually from a foundation of charity. And St. Valentine did not know at that point whether or not God would necessarily grant the prayer. He said let it be done according to God's Will. If it's God's Will, he will be healed; if not, he won't. Very much like Fatima; some will be healed, some will not, when Lucia would ask Our Lady about that; it's just according to Divine Providence.
St. Simeon – who longed his entire life to see the Messiah with his very own eyes. He desired this from his youth, to behold the Messiah; he prayed for it day in and day out, knowing the scriptures at some point would be fulfilled and he hoped and believed that sometime in his life it would happen. Much like in our lifetime many believe that we may see the triumph of Our Lady's Sorrowful and Immaculate Heart. We hope for that; we should long for it, and it is very possible either we will see it or we will die beforehand because of the chastisement. Either way, with St. Simeon prayed incessantly, guided as he was in his desire by the Holy Ghost, he finally came to see his desire fulfilled. He received in his arms from the Blessed Mother herself this Divine Child and he spoke then the Canticle of St. Simeon, "Now Lord, let your servant go in peace". St. Simeon as was the case with St. Anna (not Ann, the mother of the Blessed Virgin) the prophetess in the temple, were representative of the Old Testament, the Old Covenant which was coming to an end. Both of these holy old people were representative of the fact that Christ came to make a New Covenant with the Old passing away. Those who were truly of the right spirit in the Old Covenant would have recognized Christ for who He was, accepted Him, embraced Him and then would have been at peace because the whole point of the Old Testament, the Old Covenant, was fulfilled in Our Lord. So we learn two lessons from St. Simeon; perseverance in good desires and that desires that are really good that stay with us are generally from God – so don't give up.
Solomon's Temple and the New Temple
Christ's presence made the second temple greater than the first one which was built by King Solomon and destroyed by Nebuchadnezzar during the Babylonian captivity lasting seventy years. There is a connection between seventy days before Easter, represented by Septuagesima Sunday, and the exile we are supposed to feel from both heaven and from the Church due to consequences from the present crisis. The people exiled in the Babylonian captivity were the good ones. The bad were killed by the Babylonians. Those who were not pleasing to God were destroyed. This goes hand in hand with the readings for this week in the Office about Noah and the flood. All but eight died, destroyed by the flood. It shows God's hatred for sin and should make us more attentive at this point to prayer and to preparing ourselves and our hearts to do worthy penance, asking the Holy Ghost to illumine our conscience to our sins; those things not just through last year but through our lives that we have done that have made us displeasing to God and otherwise could have destroyed us were it not for the grace of the Holy Sacrifice of the Mass.
Lent and the "New Temple" 
So it is a blessed and a very short season, but one that is so important if we are to make a good Lent. I remember my first sermon here in January of 2005 – I only remember because it was the first one – but you can't just turn the faucet on right away to hot. Little by little you warm up to hot. So at this time we've been so comfortable, so at home in this world that we have forgotten how important seeking sanctity is and a part of that making reparation for our past sins and how pleasing that is to God.
Today we must start again to do that. The people in the time of the Babylonian captivity, those in exile who already were good – maybe they hadn't done enough to avert that disaster. Maybe we can make the connection there; maybe we haven't done enough to obtain the consecration of Russia among other things. We can make an almost direct one-to-one parallel there.  Their good effort was their suffering in exile. They longed to return to Jerusalem, they wept because they were in exile. We in Southern California, all the good that we have here, God has blessed us so much, we might even say too much because we forget that we are in exile and this time leading up to Lent is meant to remind us we are in fact in exile. We must remind ourselves of that in order that we may not sleep the sleep of death here of lukewarmness and then be judged and spewed forth from Our Lord's mouth which is a part of one of the readings for Lent, actually one of the epistles. 
Those returning from exile after the end of the seventy years longed immediately to rebuild the Temple but it took quite some time and they had a number of starts and stops. Little did many of them realize that the labor of love they were doing would actually be rewarded later when God Himself would come to enter into His Temple at the Presentation. So the Temple was consecrated by the presence of God. Even though the Temple was not as beautiful to look at as was Solomon's, it was far greater, it was infinitely greater in a manner of speaking because God had actually visited that Temple, not just at the Presentation but later on, the finding in the Temple. Which Temple is that? The same one. Later on preaching at the Temple, which one? The same one. So Christ made a number of visits in His life to this Temple to offer sacrifice to His Father and to show who He was, to make the connection with Himself with the Temple.
But we have something even greater here because whereas Christ visited this Temple and sanctified it by His presence but then left, here perpetually God has taken hold of His Temple at Our Lady Help of Christians. Even though our church may not look as beautiful as the church where I was ordained, one of the nicest churches in all of the United States, the Basilica Cathedral of the Sacred Heart, a beautiful, beautiful church. It is amazing, I love going there. It gives you goose bumps being there. The Blessed Sacrament was reserved in a separate room, okay? So we had this great church, beautiful church. Where's God? Somewhere else. Technically He is in the church but a separate room so when you go there sometimes you wonder when people come the first time, do I genuflect, do I bow, what do I do? As beautiful as that church is and even though Christ technically is there, we have what's greater here to perhaps bridge that gap in order to bear fruit from it. To think that we have so much and maybe if we thought, How would I feel if I was in the Temple and I saw Our Lady and St. Joseph bringing the Christ Child into the Temple. How in awe I would be, how joyful I would be. But then why are we not joyful now because what we have is actually in a way greater, even greater. We tend to forget because we don't see. Even though we believe we don't really believe like we should. So that's what meditation does for us. It bridges the gap between our senses and reality. Our senses could otherwise perceive reality fine but when it comes to spiritual realities it takes prayer.
So learn to yearn then by means of prayerful silence the rest of Septuagesima, one in spirit with our forebears who lived through exile as in exile. Even one extra visit to the Blessed Sacrament before Lent begins to beg the grace of a good Lent that returning to God completely, we will be ready to help rebuild His Church when Lent is completed, much like the people returning from exile rebuilt God's Temple.
In the Name of the Father, and of the Son, and of the Holy Ghost. Amen.