Sermon for Quinquagesima Sunday – February 11, 2018 by Monsignor Patrick Perez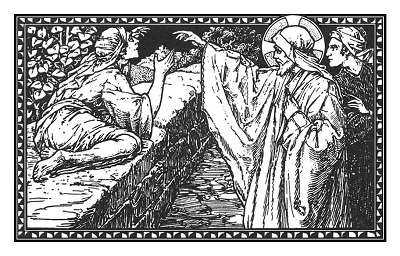 Monsignor began the sermon by reciting a Hail Mary.
We will have a short sermon today; many years ago they were called "fervorinos". I don't know how long it had to be to be called a sermon, but if it was a short sermon like today, it's a fervorino.
Prayer and Penance
We find ourselves almost at the beginning of Lent and I want as well as I can, to get across to you the importance of living a good Lent. I read the Regulations of what the modern Church requires which are Canon Law; however, I think there are other factors you should consider. Interestingly everything seems to tie into Fatima in one way or another; the message of Our Lady of Fatima. Today is the feast of Our Lady of Lourdes. Our Lady always says the same thing when she appears. She talks about the need for penance and for prayers, especially the Rosary; penance and prayer, penance and prayer. Tie that into the refusal of Rome for how many years now… well over fifty years, to consecrate Russia to Our Lady's Immaculate Heart. She said there would be chastisements for that failure, and one of the chastisements that has become clear to me – I'm sure once I tell you it will be clear to you, too – is that while at the same time heaven calls for prayer and penance, more prayer, more penance, stop sinning; Rome has decreased what it requires of the faithful by way of prayer and penance to almost zero.
Once again, as we are traditional Catholics, many of you had to find the traditional Mass and figure out the modern situation in the Church through your own intelligence and the grace of God. We haven't always seen it this way but let me tell you that you are called to see the penances of Lent in the same way. The modern bishops imposed the monster of the Novus Ordo on the Church with disastrous results. We should see the Novus Ordo penances as the same kind of disaster that the New Mass is.
No Prayer and No Penance
I only mentioned what the modern Church requires today by way of contrast because there is no penance there. Really! I mean if you walk out the door and you haven't got time for breakfast and then you have a meeting and skip lunch, you don't think much of it do you for the most part? That happens to all of us. Suddenly, by mid-afternoon, you think, I feel kind of hungry, I wonder why? Oh, yeah, right, I skipped breakfast and lunch. That's what happened. I was running around too much. But what I'm saying is, it didn't cause you to faint or die doing that once or twice. Similarly, the Church requires two days of the whole year, which none of us think anything of doing just by accident. I tell you solemnly that two days of prayer, fasting and abstinence is inadequate for our sins, it simply IS NOT ENOUGH! If you look at our calendar, the traditional regulations for fasting and abstinence are found there.
But I want to say just a word about the whole thing because we talk about the forty days of Lent. Some people don't realize this but if you count Ash Wednesday to Easter Sunday, there are forty something days. What's going on? There are more than forty days there. That is because Sundays are not a part of Lent. And in fact, it is not appropriate to do penance on a Sunday because Sunday is the day given to Our Lord and it is the day of the Resurrection, it is the day of rest, it is the day for praying and doing spiritual exercises and things like, but it is not appropriate to consider it a day of penance. So if you take out the Sundays, voila, you have forty days again and that's where the whole thing comes from. But the whole institution of Lent according to the Fathers of the Church, such as St. Justin and St. Irenaeus, who say that the forty-day fast was instituted of course, when Our Lord fasted for forty days and forty nights, and then they say it was passed on from the apostles to the Church from there.
Now think about this. The Lenten fast was only stopped pretty much within the lifetime of some people who are in this church. Two thousand years passed since Christ Himself and the members of His Church fasted and abstained during Lent, and this was obliterated in our lifetimes and somehow the modern Church thinks that we are going to get grace from so little. To imitate Christ who fasted forty days is the idea but we participate in His merits and sufferings by subjecting our flesh to voluntary mortification of the spirit and mortifying our evil desires as did St. Paul.
Tithing Penance
As well, fasting enables us to lead a more pure life, prepare for the Holy Festival of Easter, and the reception of the Divine Lamb Jesus, and finally to render God satisfaction for our sins and do penance, as Pope Gregory says, for the sins of one whole year by one short fast lasting only the tenth part of a year. So think about that. St. Gregory says, Yes, we sin all year and then one-tenth part of the year we do penance and we even consider that a lot.
Now how was the fast of Lent observed in early times? Well it was always forty days of fasting, always. However, earlier in the Church it was even more severe. As I said, fasting means you may take one meal and two snacks – they call them collations, it's just the Latin word for snack. In the old days you couldn't have anything during the day until supper. That means you had to go work and you know in the old days work wasn't anything like it is now. I mean most people today don't do work like it was done in the old days when you were farmers. You got up and you toiled out in your fields no matter what the weather, heat or cold or whatever, and you worked from dawn to dusk. It was real labor. They did that on no food. What's more, they couldn't have any meat byproducts, animal products so I guess you'd say today they had to go vegan. No cheese, no eggs, nothing like that. So during Lent Catholics were the original vegans. I guess that's something you could drop on them too. Well, we were vegans before you were. (Monsignor laughing) Maybe you could get vegans to join the Catholic Church by telling them that we pioneered the movement. That should impress them. Before then they couldn't have any food until suppertime and they couldn't have any of those products.
St. Ambrose says, How much does this ancient custom put to shame the Christians of today, and he was talking about the 4th Century when he lived, okay? So already by then they had lightened up on some of the vegan stuff and supper and what not. He says "What sort of Christians are they? Christ, who never sinned, fasted for our sins and we will not fast for our own great and numerous offenses? Finally, how should the holy season of Lent be spent? Well, what's the purpose of the fasting? It's not to merely deprive yourself of food. That's called a diet. Not that I would know anything about that. (Monsignor laughing) But just depriving yourself of food for its own sake is a diet. The reason to fast is found when you realize, "Remember man that thou art dust and to dust thou shalt return". You go without your normal food regime for a day or two or three and you go, Wow, how fragile I am. This sometimes feels terrible and that's just from not eating as much as I usually do. You read in the news these days and every time I turn on the radio, that some young person has died from the flu and you go, You know, young people are fit, athletic, and they are passing away from the flu – how fragile we are and we feel that when we are fasting. That's the real purpose, our utter dependence on God, the fleeting nature of this life and the goal of heaven in the next life. So that's the whole reason behind fasting.
Prayer Before Lent
I just want to conclude with the Prayer at the Beginning of Lent for us. Before Lent starts you should choose two things; a sin that is a particular problem for you that you want to overcome, and a virtue that you should ask for an increase of during the season. In the epistle today the Church chooses this to show that the virtue to be most desired is that of charity. But you can choose another virtue if you care to but charity encompasses everything. Go home, re-read the epistle. Charity is everything. Why does he say, "Faith, hope, charity, these three are here now but charity is the greatest of them"? It's because in heaven there is no faith and there is no hope. There is only charity. Why have faith and hope in going to heaven when you are there. Why have faith that if you follow the law of God you will go to heaven? Why have hope in the life to come when you are there. That's why it's not a bad thing that it's not there, it's a good thing that it's not there because you have what you had faith in and hoped for.
So we can choose a particular sin we want to overcome and then a virtue that we would like to increase, something as charity.
Almighty God! I unite myself at the beginning of this holy season of penance with the Church militant, endeavoring to make these days of real sorrow for my sins and crucifixion of the sensual man.  O Lord Jesus! In union with Thy fasting and passion, I offer Thee my fasting in obedience to the Church, for Thine honor, and in thanksgiving for the many favors I have received, in satisfaction for my sins and the sins of others, and that I may receive the grace to avoid the sin that I have chosen to conquer this Lent and that I may practice and receive an increase in the virtue that I have asked for.
In the Name of the Father, and of the Son, and of the Holy Ghost. Amen.