Read and Save Your Soul – July 16, 2016 by Rev. Fr. L. Stephen Galambos, o.f.m.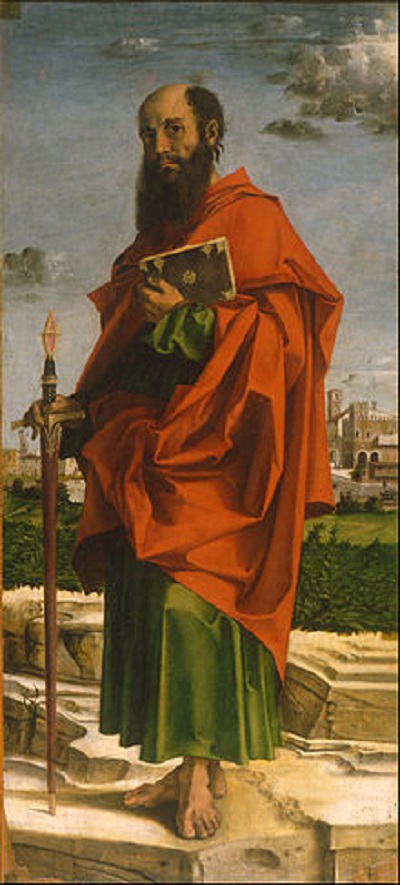 From the two pillars of our Holy Faith
        1. St Paul and
2. St Ignatius
From Paul, appointed by God to be an apostle of Christ Jesus, and from Timothy, one of the brothers, to the churof God at Corinth and to all the saints in the whole of Achaia. Grace and peace to you from God our Father and the Lord Jesus Christ.
Blessed be the God and Father of our Lord Jesus Christ, a gentle Father and the God of all consolation, who comforts us in all our sorrows, so that we can offer others, in their sorrows, the consolation that we have received from God ourselves. Indeed, as the sufferings of Christ overflow to us, so, through Christ, does our consolation overflow. When we are made to suffer, it is for your consolation and salvation. When, instead, we are comforted, this should be a consolation to you, supporting you in patiently bearing the same sufferings as we bear. And our hope for you is confident, since we know that, sharing our sufferings, you will also share our consolations.
For we should like you to realise, brothers, that the things we had to undergo in Asia were more of a burden than we could carry, so that we despaired of coming through alive. Yes, we were carrying our own death warrant with us, and it has taught us not to rely on ourselves but only on God, who raises the dead to life. And he saved us from dying, as he will save us again; yes, that is our firm hope in him, that in the future he will save us again. You must all join in the prayers for us: the more people there are asking for help for us, the more will be giving thanks when it is granted to us.
There is one thing we are proud of, and our conscience tells us it is true: that we have always treated everybody, and especially you, with the reverence and sincerity which come from God, and by the grace of God we have done this without ulterior motives. There are no hidden meanings in our letters besides what you can read for yourselves and understand. And I hope that, although you do not know us very well yet, you will have come to recognise, when the day of our Lord Jesus comes, that you can be as proud of us as we are of you.
Responsory
℟. Your steadfast love, O Lord, sustains me.* When the cares of my heart are many, my soul finds comfort in your help.
℣. Just as we have a share in Christ's many sufferings, we share also, through Christ, in his great consolation.* When the cares of my heart are many, my soul finds comfort in your help.
Second Reading
From the beginning of a letter to the Magnesians by Saint Ignatius of Antioch, bishop and martyr
We should be Christians in deed, as well as in name
Ignatius, also called Theophorus, to the church at Magnesia on the Maeander, a church blessed with the grace of God the Father in Christ Jesus, our Saviour, in whom I salute you. I send you every good wish in God the Father and in Jesus Christ.
I was delighted to hear of your love of God, so well-ordered and devout, and so I decided to address you in the faith of Jesus Christ. Honoured as I am with a name of the greatest splendour, though I am still in chains I sing with the praises of the churches, and pray that they be united with the flesh and the spirit of Jesus Christ, who is our eternal life; a union in faith and love, to which nothing must be preferred; and above all a union with Jesus and the Father, for if in him we endure all the power of the prince of this world, and escape unharmed, we shall make our way to God.
I have had the honour of seeing you in the person of Damas your bishop, a man of God, and in the persons of your worthy presbyters, Bassus and Apollonius, and my fellow-servant, the deacon Zotion; may I continue to take delight in him for he is obedient to the bishop as to the grace of God, and to the presbyters as to the law of Jesus Christ.
Now it hardly becomes you to presume on your bishop's youth, but rather, having regard to the power of God the Father, to show him every mark of respect. This, I understand, is what your holy presbyters do, not taking advantage of his youthful condition but deferring to him with the prudence which comes from God, or rather not to him but to the Father of Jesus Christ, to the bishop of all. So then, for the honour of him who loves us, it is proper to obey without hypocrisy; for a man does not so much deceive the bishop he can see as try to deceive the bishop he cannot see. In such a case he has to reckon not with a man, but with God who knows the secrets of the heart.
We should then really live as Christians and not merely have the name; for many invoke the bishop's name but do everything apart from him. Such men, I think, do not have a good conscience, for they do not assemble lawfully as commanded.
All things have an end, and two things, life and death, are side by side set before us, and each man will go to his own place. Just as there are two coinages, one of God and the other of the world, each with its own image, so unbelievers bear the image of this world, and those who have faith with love bear the image of God the Father through Jesus Christ. Unless we are ready through his power to die in the likeness of his passion, his life is not in us.
Responsory
℟. Be an example to all the believers in the way you speak and behave, and in your love, your faith and your purity.* In this way you will save both yourselves and those who listen to you.
℣. Practise these duties; devote yourselves to them, so that all may see your progress.* In this way you will save both yourselves and those who listen to you.
Hymn Te Deum
God, we praise you; Lord, we proclaim you!
You, the Father, the eternal –
all the earth venerates you.
All the angels, all the heavens, every power –
The cherubim, the seraphim –
unceasingly, they cry:
"Holy, Holy, Holy, Lord God of Hosts:
heaven and earth are full of the majesty of your glory!"
The glorious choir of Apostles –
The noble ranks of prophets –
The shining army of martyrs –
all praise you.
Throughout the world your holy Church proclaims you.
– Father of immeasurable majesty,
– True Son, only-begotten, worthy of worship,
– Holy Ghost, our Advocate.
You, Christ:
– You are the king of glory.
– You are the Father's eternal Son.
– You, to free mankind, did not disdain a Virgin's womb.
– You defeated the sharp spear of Death, and opened the kingdom of heaven to those who believe in you.
– You sit at God's right hand, in the glory of the Father.
– You will come, so we believe, as our Judge.
And so we ask of you: give help to your servants, whom you set free at the price of your precious blood.
Number them among your chosen ones in eternal glory.
The final part of the hymn may be omitted:
Bring your people to safety, Lord, and bless those who are your inheritance.
Rule them and lift them high for ever.
Day by day we bless you, Lord: we praise you for ever and for ever.
Of your goodness, Lord, keep us without sin for today.
Have mercy on us, Lord, have mercy on us.
Let your pity, Lord, be upon us, as much as we trust in you.
In you, Lord, I trust: let me never be put to shame.
Let us pray.
Be gracious, Lord, to us who serve you,
and in your kindness increase your gifts of grace within us:
so that, fervent in faith, hope and love,
we may be ever on the watch
and persevere in doing what you command.
Through our Lord Jesus Christ, your Son,
who lives and reigns with you and the Holy Ghost,
one God, for ever and ever.
Amen.
Let us praise the Lord.
– Thanks be to God!