Hope leading to JOY and Eternal Life – March 4, 2018 by Fr. Stephen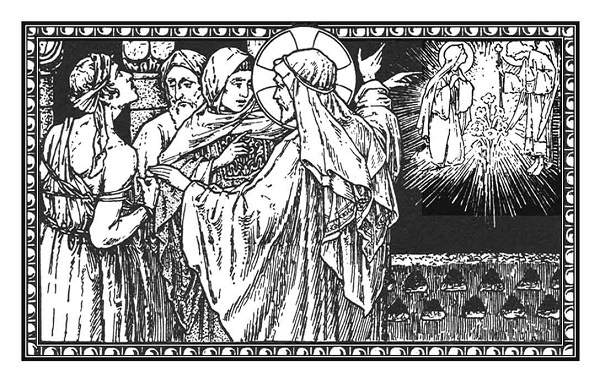 A homily for Laetare Sunday
Today's Gospel is about coming Home to our real and final Home, where our Heavenly Father awaits us, His children. 
Jesus' parable reveals to us all,  — sinners —, that our only way to Everlasting Joy, — giving us hope — by recognizing, acknowledging, admitting and confessing our sins. This is what the prodigal son learned and did.
In the beginning of the parable the younger son, either immature, misled by his self-centered foolishness, deceived himself, and the devil knows how to deceive by using our weaknesses, false promises or plain lies, always contradicting God's wise counsels His straightforward commandments!
The devil does not bring us sinners to hell with our eyes open, covering them with darkened desires.
As the devil did with our first parents, he first blinds us sinners from seeing the evil as evil, the concealed malice of sins. But the Word of God tells us that "malice blinds men." So, does the devil lead men to eternal perdition. Before we fall into sin, the devil is busy covering up, blinding us, so that we may not see the malice of disobedience, but, instead, points to and promises delight, incites us to refuse to see the evil in the sin we do, and the ruin we are about to bring upon ourselves in disregarding, and in not adhering, not obeying, but disobeying and offending God. Once we commit sin, then the devil comes around once again and seeks to silence even our weak conscience, to make us dumb, that, through false shame, we might hide our evil, the fact that we have sinned, even to commit sacrilege, to conceal in confession our sin rather than truthfully admitting them with sorrow. St. Augustine prays: "Lord, keep a door at my mouth, that it may be closed against all improper words, but be open to confess the sins I have committed. So that it will be a door of restraint, and not of destruction." Let us choose to disregard sin and temptation in silence, not to utter words offensive to God or to our neighbor; but speak the truth, if we had failed or sinned, to reveal the truth in confession and find our liberation by God's mercy. Jesus said the truth shall make you free. To keep silent over sin in confession, is a grave evil, killing our conscience, the ruin of the soul. After we have offended God, the devil is busy to suppress the voice of our conscience, and to keep our mouth closed to prevent us from confessing the truth, namely our guilt, our sin. 
A saint once asked the devil, what he was doing there. He said: "I am now restoring to the eyes of the penitents the shame that I took away from them before, while they were committing sin; I now restore their shame so that they may have a horror of confession." 
St. John Chrysostom says "but God helps us to see sin as shameful, so that we may abstain from it, and gives us courage to confess it by promising pardon to all who accuse themselves of their sins in true sorrow. The devil opposes God: he induces us to a false confidence in order to bring us to sin by multiplying excuses; but, when once sin is committed, he scorns us to shame, to prevent us from facing and confessing our sin. For he who conceals his sin in confession abuses and invalidates his confession, and tramples under foot the blood of Jesus Christ. says Tertullian: "Unhappy souls! they think only of the shame of confessing their sins, and do not reflect that, if they conceal them, they shall be damned."
Be grateful to Jesus Christ Who in our place died on the Cross to forgive our sins; show our love to him and do not offend him any more. 
Do penance daily cheerfully, showing him your love and gratitude for his love for you, for having you as his beloved. 
In gratitude and thanksgiving offer sacrifices to God so that many sinners by the grace you earn for them by your prayers and penance, may come to recognize their sins and return to Christ to live in his friendship without offending him anymore. Gather souls for Christ, and become a grateful and his useful servant, so you gain souls for God as your form of gratitude for his love for you. Lent is time to increase in grace and offer faithful service to God through prayers and penance.  Pray daily for conversion of misguided Catholics, so, many hapless sinners may return to God and his Church. Praise Christ and the devil will flee. 
Learn from Jesus' parable, decide to come back to Our Merciful Father by humble worship of His Majesty, who is His richness is willing to embrace us if only we ask for His taking us back by His pardon and rich forgiveness. .. Amen.