Saint Philomena First Tuesday of the Month Devotions Reminder for December 5, 2017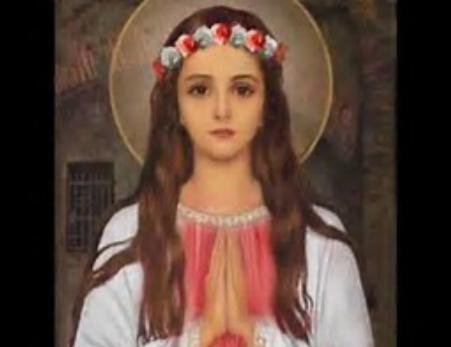 J.M.J.
† SAINT † PHILOMENA † DEVOTIONS †
FOR FIRST TUESDAY December 5, 2017
@ 7:30 P.M. PRAY OUR LADY'S ROSARY AND SAINT PHILOMENA'S CHAPLET
For all members' intentions and all deceased members, especially:
REST IN PEACE: AARON LYBARGER; OCTOBER: TERRY CONDON; FRED NAZARENO; NOVEMBER: FR. TIMOTHY HOPKINS; FR. BOLDUC; MYRNA McDERMOTT; RUTH WILKINSON; MARGARET ADAMS; DAVID NEFF; GEORGE MORA; PETER SCALZO; MANUEL VERDIN; CLEMENS HEINZ; EDWARD HEINZ; VIRGINIA MOYA; DECEMBER: FR. HARRY MARCHOSKY; THOMAS RIGNEY, SR.; DEBRA SELWAY; JAMES FINNEY; JOSEPH PETRONELLA; THOMAS PADBERG; GERARD CAIN; CARL HEINZ; JOSEPH HEINZ.
CONVERSIONS: Family of Donald J. Bennett; Joann Green; Aurora Jaurez-Gonzalez; Katarina; Bill Palm, Jr.; Rick Palm Family; Paul Flick; Joseph Reynoso; Roger Williams; Josh Plyler; Nancy McCurdy; Derek Halbasch; Mary K. Mandist; Jim C. Kubik; Jeffrey Anderson Family; Anthony Peraita Family; Don Bennett and family; Larry Whitlock and family; Leslie Ortega, Brandon & Alexandria Morales; Maria Soda; Mark Soda; Kristen Soda; Ronald & Renee Cabourne, Lisale; Robert Wiemann, Sr.; Elsa Gutierrez; Christine & Monica Martin; Andrew and Norman and families; Joe Wilkinson; Patrick Sullivan; Katarina Rusinas; Dulay Family; Escusa Family; Ebarra Family; Aspiras Family; Ken Koll Family; Flacchini Family; Joy Palisoc & Family; Jackie Directo & Family; Suyen Bailey & Family; Suson Family; Rob G.; Nicolo Carlo Lipa; Matthew Girard; Joseph Norton (from Islam); Joel Arredondo; Carlos Moya Family members; Jeanine Lambert; Theodore Thomas Spaulding; Monte Cote family members; Mazurek Family; Carol Levy; Marie Owens; Cathy Turko and family; Katrina Ann Tarcisio and family; Stefanie Sampson, Alexander Dettman Cirasunda and family, Mario and Gail Cirasunda and family, James and Dolores Dettman, Anne Broad and family; Mike Molder; Mr. Roger Andrews; Leslie Smith; Emily Riddle; Mia Riddle; Adam Smith; Kelly Sorenson; Andrew Gemoets; Justin Cote; Valerie Stokie; Dale Jacobs; Dara Cirasunda; Tui Vuong; Kay Boyer; Mike Gogue; Ceballos Family; Niemann Family; Philip; Theresa and Mikayla Palm; Denise & Charlene; Josh Collins; Elizabeth, Dean & James Curran; Ruth Wilkinson Family; Vincent Washicko Family; J.W.; Douglas Croisette.
VOCATIONS: Stephen Kaldawi; Noah Cooke; William Kaldawi; Mario Parker; Bro. Dominic; Christian Smalley; Luke Washicko; Daniel Croisette; Gabriel Valentine; Nick Midgley.
HEALTH: Fr. Ed Broom; Fr. Cooper; Fr. Norbert; Fr. Larry Darnell, Sister Anastasia; Sister Concetta Banez; Greg Parent, heart failure; Jitka Rollova; Rebecca Rusinas and friend Sherrie, glaucoma; Martha Ramsammy, cancer; Elizabeth Bryan, stroke; Rosie Abule; Elizabeth Bryan, stroke; Anne Thorne, good health; Sal Pepe, M.D.; VanAnh Nguyen, major stroke; Tuyen Nguyen, heart and kidney; Maria Wiemann, adrenal tumor; Teresa Johnston; Gabriel and Christian Smalley, restoration of hearing; Ken Fisher, stroke; Dorothy Pegovich, stroke; Christopher Caudell, 13, brain tumor, spina bifida; Sean Plotkin, vestibular disorder, brain cyst and neck pain; Loreto C. Ata, Stage 4 lung cancer; Fanny A. Mercado; Victorio Ata; Bernadita Cereno; Lea Cabanit, leg; Edwin Andalis, cancer; Perla Intico, cancer; Virginia Schoenfeld, cancer; baby Colette Payne, neuro-blastoma; Bruna Lorenzi, cancer; Mike & Cathy Marchio; Lisa Torrecampo, cancer; Alicia de Guzman, cancer; Ely Palisoc, cancer; Tessie Planta, cancer; Josefino Miranda, stroke; Anelia Manzanilla; Brigitte Nguyen, coma; Diane Cirasunda; Jose Cortes, Jr.; Peggy Perez; Joseph Limon Type I diabetes; John Mick; Dorothy Reqourtel, stroke; Dolores Torres, severe dementia; Betty Dulay, cancer; Mary Moseley, heart; Linda M. Whitlock; Larry Whitlock; Anna Marie Abdadessa; Mrs. Tamayo, cancer; Patricia Cramer, cancer; Spencer Cherry's grandson; Rose Marie Smith, metastatic cancer; Ulysses (liver cancer), Fortunata, Adrian and Nicolo Lipa; Thomas Goodwin, lung cancer; Vincent Pekny, colitis; Kody Pernita, paralysis; Thelma Escaro; Charles DeWeil; John Pileggi, stroke; Daniel J. Jimenez; Mike Fischer, jaundice; David Abramyan, 8 yrs old; Gregory Neff, cancer; Matthew Girard; Stanley L. Jackson, III; Juanito Cabanit; Samuel Amador Hernandez, kidney; Bernardita Cereno, breast cancer; Estrella Hernandez; Brendan McGuire, cancer; Daisy Narvasa; Jennifer Bower, brain tumors; Jeanine Lambert, colon cancer; Christopher Aguilar; Arlene & Crispin Balderama; Fe Balderama; Anna Chiriaco, back injury; Cathy Turko; Katrina Ann Tarcisio; Michael S. Fitzgerald, mental, physical; Bob Wiemann, back, ankle; Jeffrey Wiemann, alcohol; Jerome Fischer, alcohol, anger; Dorothy Lipp, severe headaches; Max Frausto; Thersa Gutowski, Alzheimer's; Angeline Paajanen, brain aneurysm; Anthony Cortes, Stage 4 bone cancer; Javier Gonzalez, addiction; Benita Piro, diverticulitis; Evelyn Felix, cancer; Kevin Garcia, drug addiction; Andrew Bonafede, physical & spiritual health; Ely Galbis, cancer; Leslie Ortega, lung disease; Lucille and Timothy MacDougall, cancer; Linda Hudson Barrera; Julie Ayraud, tinnitus; back pain; Ben Teach, cancer; Isabella Codeceira.
SPECIAL: Fr. Benedict; Ryan Vandborg; Danuta Czarnota; Arzel Turner Family; Lybarger Family; Jason Rishel Family; Beau Palmer Family; Ensign Tanner Williams, USN; Maureen Marquez, in need of good home; James Moran Family, quick sale and purchase of right home; Patricia Rusinas (mental health) & Family, final spiritual & physical healing & guidance; Charlotte; Gavin & Lilia Cabanit, marriage difficulties; Collin Hubbard, career discernment; Mercado, Reyes and Ramirez Families; B. McKenzie Family; Michael Joseph Rice; Mary Fuller; Michaela and Helmi Siemons; Jenny Diane Willems; Al Massip; Joseph Vo; Steven Reinhardt family; Patrick Lefranc Family; Mr. David Hines; Miss Kristen Hines; Mrs. Marilyn Kecskes; Mrs. Marilyn Meyers; Mr. Joshua Smart; Mr. Octavian Augustine Austudillo; Mr. Anthony Tisler; Mr. William Tisler; Mr. Robert Tisler; Mr. Mark Meyers; Miss Anna Brown; Gabrielle Limon; Julius Gutierrez, family/ spiritual help; Cynthia Forest, Mass nearby; Susie Wang; David and Christina Cirasunda; Miss Zina Hallak; Patrick Corcoran (pancreatic cancer); Tony Murphy Family; Janell Putnam; Laura Moya; Wyatt; David Wang, education, safety; Miss Solange Williams and family; Mrs. Laura Andrews, return to Faith; Ted & Amy Spaulding; Justin & Leah Cote; Megan Sorenson; Glenn Emanuel; Elizabeth Anne, Dorothy Therese and Jacqueline Veronica; Grace Gogue; Carolina and Veronica Paini; Capt. Marcus Marinelli & soldiers, Major David King; Special Ops-OPSEC men, Frausto Family; Fiona Rose Washicko; D.C., JDW.
FINANCIAL: Mary Star Elementary School; Aurora Jaurez-Gonzalez; Irene LaPapa Vickers; Carmen Hernandez (case settlements, resolution); Link Mohammed settlement cases; Luzon Foodmart; Socrates Sison; Arlene Balderama; Fe Balderama, Christopher Aguilar, school; Berous Shaffie, Josefina de la Vega, resolution, reparation, Las Vegas and Arizona properties sales; Nancy Dillinger (peace); Cathy Turko (home); Katrina Ann Tarcisio (affordable housing); Bill Dettman (home sale).
EXPECTING: Katie Soto; Angel Cochran; Maria Wiemann.
THANKSGIVING: Newborn Baby Charles Royalty, Baby Gabriel Mathy, Baby Luke Martin Spaulding. For Catherine Holtz restored to health; Rebecca Rusinas' sister's illness properly diagnosed; Dr. D., favorable cardiac outcome.
May you and your loved ones enjoy a most blessed, peaceful and charming
Christmas 2017, and a happy and prosperous New Year 2018 !
~ Mrs. Catherine Croisette
JMJ
Dear Universal Archconfraternity Members,
I appeal to all devotees of Saint Philomena to please support this apostolate of devotion to her. Only with your financial help am I able to bring Saint Philomena to the many people she wants to reach.
Although I have not been able to always send the Reminders each month for the First Tuesday Devotions, your petition requests are still duly noted and honored.
Please note that your loved ones and your petitions may be placed on Saint Philomena's Altar in Italy next to her holy relics. To do so, simply send a message with names and any petitions you would like to have physically printed out and placed on her Altar. No petition information is necessary for names to be placed for Saint Philomena's intercession. I have enclosed a return envelope for your convenience.
In gratitude for favors received and for favors hoped for, please continue to spread devotion to Saint Philomena as you are financially able.
Your donations, which support this tax deductible non-profit charity, also helps support the preservation of St. Philomena's relics in her Sanctuary in Italy. They also provide the means for printing and postage to over 300 Saint Philomena member families each mailing.
You are in my daily prayers to St. Philomena, that she will graciously hear and favorably answer all your petitions. I cannot stress enough how powerful she is with God, and that Our Lady Herself tells us that Saint Philomena's prayers are never refused.
It is a holy and powerful thing to place one's self and loved ones under the protection of Saint Philomena, Wonderworker for our days.
Sincerely yours,
Catherine Croisette
Viva, Santa Filomena!
The Universal Archconfraternity of St. Philomena California Center (11), Inc. 31103-D210 Rancho Viejo Road, San Juan Capistrano, CA 92675is a non-profit organization as defined by IRS Code 501(c) (3) registered with the California Secretary of State. Your donations are tax deductible.